Advise on how to plan and organise your literature review.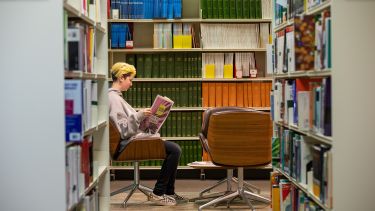 A literature review is an account of the current thinking in a specific area of study. Its purpose is to introduce the reader to what has gone before and to provide you with a foundation that you can build on with your own research.
A literature review will often form a section or chapter of a larger piece of work (such as a dissertation), but you may be asked to produce a literature review as a standalone piece of work. 
A literature review will usually do some or all of the following:
Introduce the reader to a specific area of interest.
Organise relevant sources thematically, starting with the more general, broader themes and narrowing towards the most specific themes.
Introduce key theories relevant to the area of study.
Define your understanding of important terms or language used in the research.
Include only the most relevant, important or influential sources, carefully selected. It is about quality not quantity!
Identify gaps or limitations in existing research.
Considering a body of scholarship as a whole (or in relation to each of your themes) will allow you to 'synthesise' multiple sources and produce an overall summary.
Developing a literature review will help you to develop a level of expertise in your chosen area. By consulting and including a unique combination of sources, you will be able to formulate an informed and original perspective, which will drive forward your ongoing research. 
Action: start a bibliography snowball
Are you finding it difficult to filter sources using google or STARplus? Get a head start by finding one recently published academic journal article in a relevant area (using google scholar or similar). The bibliography in that article will give you a great head start in finding other important sources.
A peer-reviewed article will have been checked by experts in the field and the authors will have referred to as much of the influential research as possible. Once you have looked up one or two other sources from that bibliography, you will be able to cross-reference - which sources are appearing most frequently and appear to be most important? 
You will start a bibliography snowball that will grow each time you consult a further source. But don't forget to be selective and make sure your snowball does not get too big!
---
As you encounter more and more relevant sources, you will face an ever-expanding amount of reading for yourself. If you were to read through all of the literature in a specific field from start to finish, you would probably still be going by this time next year. 
Academic reading, and particularly the process of 'reading around' a topic, is about selective, or targetted reading. You can find out more about different academic reading techniques here (Study Skills Online page). 
Creating a Literature Matrix can help you to identify the key things that you want to take away from each of your sources. A literature matrix is a simple spreadsheet where you select column titles to suit the aims of your literature review. Are you interested in the research methodology, the scale of the research, the main conclusions, or something else entirely?
Once you have scanned through a source and pulled out the points you are interested in, you can move onto the next source. Organising your reading in this way will also allow you to identify key themes that are emerging in your reading, which you will be able to use later on to plan your review.
You may want to use a reference management tool to help organise and produce your bibliography. Visit the University of Sheffield Library Reference Mangement pages here. 
---
Once you have a number of sources to work with, you will start to identify key themes emerging. At this point you can start to organise your sources systematically to develop and explore those themes. Can you organise your themes from the broadest to the narrowest and most specific?
A synthesis matrix will help you to identify a thematic structure for your literature review and to understand how the sources that you have found relate to one another. A synthesis matrix is a further spreadsheet that organises your sources by theme and includes a synthesis column, where you can begin to draw out comparisons between the sources. 
Once you have identified a number of sources for each theme in your matrix, you should be able to identify the following:
Do the sources build on or develop one another (is this a chronological process)?
Do the sources challenge or contradict one another? Do they reveal a debate within the field?
Do the sources identify an area of particular interest or a gap in the field?
Do the sources help to fill in gaps or complete a bigger picture?
Your synthesis column provides an opportunity for you to comment on multiple sources considered as a whole. It is a space for your critical voice and interpretation, which is a key part of writing a successful literature review. 
---
Once you have done the background reading and organised your sources using a synthesis matrix, the job of writing your review is simply about adding flesh to the bones. You will need to write your review as a narrative account, but you can use your matrix as a framework to help you do so.
A literature review will usually follow a simple structure:
Introduction: what is the overall topic area and how have you broken your review down into themes?
Theme 1: the broadest, most top-level area (perhaps including some background theory that may have influenced your thinking).
Theme 2, theme 3, theme 4, etc. Your themes should get more specific and closer to the focus of your research.
Conclusion: how has this informed your thinking and (if the review is part of a bigger project) what are your research aims and objectives? 
Your review may be broken down by section heading or paragraph by paragraph. Each paragraph will describe a particular theme and finish by summarising your overview of a theme (the synthesis part of the martix above). 
Don't forget to reference all sources using an appropriate referencing style! Visit the University of Sheffield Library Referencing pages for more information.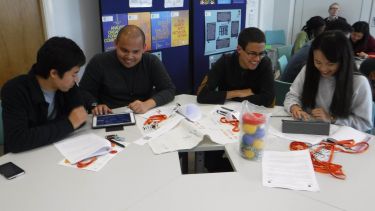 Book a Study Skills Workshop or 1:1 appointment
Would you like to explore a study skills topic in greater depth? Book on for a face-to-face or online workshop or 1:1 Study Skills appointment (current students only).