Advise and guide the next generation of Sheffield students. Talk about your career after graduation and inspire international offer holders to choose a degree at Sheffield.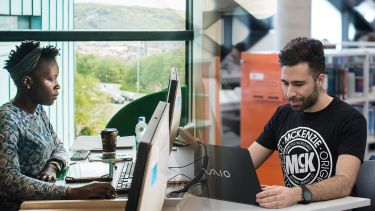 Are you an international postgraduate alumnus? Do you want to inspire and help students who hold an offer* from us decide if they want to choose the University of Sheffield for their postgraduate degree? Then we are looking for you!
What is Ask a Graduate?
Ask a Graduate is a brand new international volunteering programme at the University of Sheffield to support international student recruitment. The programme aims to help international offer holders make the right decision for their future career. You'll remember that choosing your university was a big step, especially when you didn't have the chance to visit the city and campus in person. By giving offer holders the opportunity to talk with you, we hope to inspire them to choose the University of Sheffield for their Master's degree. 
What's involved?
You'll be speaking to small groups of prospective students (maximum 5) in three 30 minute online sessions, to give offer holders the chance to ask you any questions about your Sheffield experience and how it has influenced your career. In each session it will be just you and the offer holders, which we hope will spark conversations that you would have if you were meeting each other face-to-face. The programme will run between 17 May - 30 June 2021. 
What we need from you:
Approx. 1.5 hours of your time on

a day and time suitable for you

between 17 May - 30 June 2021

Attend a 1 hour training session on either 19, 20 or 27 April. 

Fill out the registration form below. Your answers will be used for your online profile.

Send in a professional photograph to accompany your profile.
How to register as an Ask a Graduate volunteer
Are you interested in joining this programme? Register as an Ask a Graduate volunteer today and help inspire the next generation of Sheffield graduates.
You'll be asked to answer a few questions about your university experience and career, which we will share with the prospective students.
Please allow 10-15 minutes of your time for your registration. The deadline for registration is 9 April 2021, 17:00 GMT+1.
Conflicts of interest?
If any of the following statements apply unfortunately we are not able to accept you as an Ask a Graduate Volunteer within this cycle (2020-2021):
I have a relative (e.g. child, grandchild, sibling, cousin, niece, nephew) who will be applying to The University of Sheffield this cycle.

I will also be volunteering for a similar programme for another college or university's international admissions office. 

I work as a paid university counsellor or postgraduate admissions officer.    
If you need to discuss special circumstances please contact us at alumnivolunteering@sheffield.ac.uk before completing this form.
*An offer holder is defined as an applicant to the University who has been offered a place on a programme of study, but has not yet registered as a student. In the Ask A Graduate programme, alumni will be speaking with offer-holders who are likely to be holding offers from other universities. They may also still need to meet some of the conditions of their offer, for example to supply further documentation or pass an English test.