Blue plaque on campus celebrates remarkable figure in Sheffield's history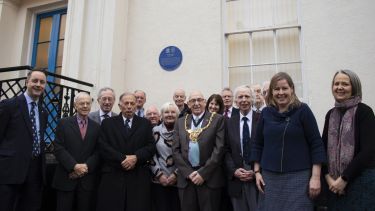 The plaque was unveiled today (14 January 2020) by Cllr Tony Downing, The Right Worshipful Lord Mayor of Sheffield, on behalf of the city, the Aesculapian Society of Sheffield and the University of Sheffield. The event was also attended by dignitaries from the University, as well as Dr Sally Hall, the great-granddaughter of Sir Arthur.
Speaking about the unveiling and recognition for her great-grandfather Dr Hall said:
"We are delighted that Sheffield University is remembering Sir Arthur with this plaque and it's lovely to have been invited to the unveiling."
Sir Arthur was instrumental in the formation of the University of Sheffield. He initially instigated the joining of the Sheffield Medical School with Firth College and the Sheffield Technical School to form Sheffield University College in 1897, which received a royal charter to become the University of Sheffield in 1905.
He was born and brought up at 40 Victoria Street (now the home of the University's Campaigns and Alumni Relations department) in 1866, the son of John Hall, a surgeon. Sir Arthur was educated at Broombank School, Sheffield and latterly at Cambridge where he graduated in natural sciences in 1887; he completed his clinical training at St. Bartholomew's Hospital, London.
Sir Arthur returned to Sheffield shortly after and began his career by helping his father in general practice, but after a year decided to establish himself as a consultant. In 1890, he was appointed as a physician at the Sheffield Royal Hospital, and remained one of its active staff for over forty-two years.
From 1911 to 1916, Sir Arthur was the Dean of the University's new Faculty of Medicine, and served as Professor of Medicine from 1916 to 1931. During the First World War, he held the rank of Lieutenant-Colonel in the Royal Army Medical Corps.
Alongside his academic work, Sir Arthur was also known for his exceptional clinical work and ground-breaking research; he was the first to recognise cases of epidemic encephalitis in 1918, and was widely acknowledged as an international authority on the condition.  Hall's reputation outside Sheffield grew considerably, and in 1928 he received an honorary doctorate from the University; in 1931 he was appointed President of the Association of Physicians; and in 1935 he was knighted for his services.
Throughout his life and career, he remained in Sheffield, and earned the nickname 'Lord Arthur', signifying the respect and affection he was held in, together with his qualities of tact, good humour and great wisdom.
Sir Arthur died in January 1951, and a commemorative lecture series is still held at the University in his memory.
Blue plaques are awarded to mark the locations of significant events, or places that have an important connection with people who have made an impact on society. They are an important way of recognising significant individuals and the places they were born, lived, worked, visited or died.
The University is proud to remember and celebrate one of its founding fathers, and a true son of Sheffield.