Building connections with help from alumni in the North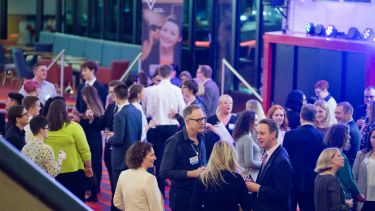 This brand new event was based on the success of our London City Connections programme which we have delivered over the last three years. We wanted to replicate this model to show our students some of the fantastic companies and career opportunities available to them in our own city and the North.
Supporting students to succeed
The participating students are from a range of widening participation backgrounds - they could be the first in their family to attend university, from areas where few people access higher education, are on financial aid to attend, or are from under-represented groups, such as black and minority ethnic, disabled, young carers or have experience of being in care. The event aimed to raise their confidence and aspirations, develop their commercial awareness, and introduce them to a network that they may not otherwise have access to.
A lesson in self-awareness
The students began the day with a visit to banking giant HSBC's Sheffield city centre office at Griffin House, home to almost 2,000 HSBC staff. They were given a tour of the building, a fantastic overview of HSBC (which has 3,900 offices across 67 countries, serving around 28 million customers), and an introduction to the wide variety of roles available in the banking industry. The students then enjoyed an interactive employability workshop, led by Raj Dhaliwal from the Graduate Recruitment Team, all about personal branding and self-awareness. The students were all encouraged to consider who they are as individuals and to identify their skill-sets and capabilities to help them really stand out to future employers.
A non-linear career journey - alumni reflections
Next it was back to campus for a workshop - 'The Art and Science of Story Telling' - delivered by two University of Sheffield alumni; Tobias Oliver (English Literature 1994), Marketing Director at Mr Bugg Presents, an artisan theatre company based in Sheffield and Emma France (History 1998) from Marketing Sheffield, the marketing arm of Sheffield City Council.
Toby and Emma began by reflecting on their experiences as students, and why they chose Sheffield both as a University and a City. Toby spoke about his love of the University drama studio and Emma described leaving an open day "feeling like Sheffield had given me a big hug". They provided valuable insights into their own career journeys, which have involved working in various marketing roles, including for local authorities, for theatres and the arts, and working freelance. For them, marketing is quite simply "the ability to attract and retain customers". They explained how this is different from sales, as it's about building an ongoing relationship.
Working in small groups the students then had a go at using the 'forced connections technique'; randomly combining words associated with Sheffield and with Christmas and working in teams to create a project idea. Taking the words 'green' for Sheffield and 'crackers' for Christmas, one team created a great idea for an event in the Peak District where crowds would gather to pull eco-friendly Christmas crackers filled with wild-flower seeds.
Toby and Emma's top tips for students were to "take every opportunity", and to understand that your career will not always follow a linear path, particular as an Arts & Humanities graduate. As Toby said: "it is much more likely be a wiggly zig–zag, and that's ok!".
A world of possibility
Our final visit was to Sheffield Theatres where we were given a wonderful backstage tour of the Crucible, including the fabulous wardrobe section where we saw hundreds of costumes. We then had an informative talk and Q&A session with Abigail Walton (English Literature 1994,) Fundraising Manager, and Andrew Wilcox (English Literature 1999), Company Manager. As well as managing her busy job, Abi is also back studying with the University, undertaking an MA in English Literature. Abi shared her experiences working in various roles in arts and heritage, including at Sheffield Museums, and spoke about how, after having originally joined Sheffield Theatres on a traineeship, she later returned to manage the department that trained her, and how this had enhanced her passion for nurturing talent and skills.
Both Abi and Andrew encouraged the students to think broadly about the variety of roles an arts degree can lead to, and the range of soft skills they are gaining. Neither of them were aware that roles like theirs existed when they were students, but both felt that they often draw on the skills and knowledge gained during their degrees in their day to day work. Abi likened writing a funding bid to writing an essay - putting out a well written and thought through argument, communicating the importance of the arts, and Andrew spoke about how he often draws on his knowledge of theatrical history to help him in his work.
Networking with alumni
This is a great opportunity to help level the playing field for those students who might otherwise be at a disadvantage. Northern City Connections is a rewarding experience to participate in, and I highly recommend it.

Alison Lally (Philosophy 1989)

Head of People and Communications, Department for Work and Pensions
The day culminated with an evening networking event at the renowned Crucible Theatre, with a range of Sheffield alumni who have built their careers in Sheffield and the region. The evening was opened by our Head of Faculty for Arts and Humanities, Professor Susan Fitzmaurice, who welcomed all our guests, thanked our hosts, and got the event underway.
We were also very pleased to welcome our newly appointed President and Vice-Chancellor, Professor Koen Lamberts. Professor Lamberts very much enjoyed meeting students, alumni and our Sheffield Theatres hosts and went to great lengths to meet and speak with all the students in attendance. Guests were able to mingle over drinks and canapés, with our alumni providing a supportive and friendly environment for the students to develop their networking skills, and find out more information about different career paths and sectors. We are very grateful to all the alumni who took part for volunteering their time to provide such a great support to our students.