Distinguished Alumnus Honoured at Australian Alumni Receptions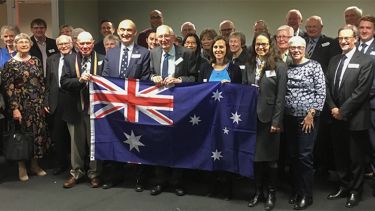 Director of Advancement Miles Stevenson and Professor Mike Hounslow, Vice-President & Head of Faculty for Engineering (a native Aussie himself) were on hand to represent the University, giving an update on the health and performance of the University, as well as sharing some of the latest activity.
As well as allowing graduates to connect and reconnect, discussing their memories and experiences at Sheffield, the Melbourne event also played host to a special alumni award.
Chemical Engineering alumnus Professor Greg Tegart (PhD Metallurgy 1959) was awarded the Professor Robert Boucher Distinguished Alumni Award in recognition of his distinguished career, leading to him becoming one of Australia's most eminent scientists and engineers.
Throughout his 60-year career, he has risen to the top of his profession, making invaluable contributions to research, government and industry, all the while maintaining a close interest in his Alma Mater.
After completing his degree Greg remained at the University until 1966, progressing to the position of senior lecturer in metallurgy. Still, after over 40 years, he is remembered as a remarkable academic who mentored and inspired his students – some of whom have gone onto become leaders in the field of metallurgy themselves.
His formidable career has gone on to span the breadth of science and technology, including metallurgy, engineering and advanced materials. As a mark of his achievements, he was awarded a Member of the Order of Australia in June 1992 for services to science and technology.
Now his focus has shifted to the field of assistive technologies for the aged and disabled, to help improve and enrich the lives of ordinary people. As he approaches his 90th birthday, Greg has joked that his passion for assistive technology came "with a degree of self-interest", but with no plans to retire just yet, he is an inspiration to us all.
The whole event was a real pleasure and showed that while our alumni in Australia may be the furthest from Sheffield by distance, they still hold the University very close to their hearts. We look forward to seeing them again soon.
The Professor Robert Boucher Distinguished Alumni Award
The Professor Robert Boucher Distinguished Alumni Award, for alumni of the University, is named in honour of the late former Vice-Chancellor Professor Robert Boucher.
Professor Boucher had a great interest in alumni relations and gave so much to the city of Sheffield over a period of 40 years. He fully appreciated the important contribution that alumni continue to play in the life of a University and was responsible for establishing the University's Development and Alumni Relations Office in 2002.