Dr David Bradshaw memorial bench unveiled in new pocket park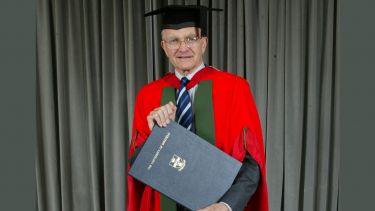 The bench, made of hard wearing recycled materials, has been placed at the new urban pocket park on Leavygreave Road close to the entrance of the Hicks Building. Around the bench the new garden has a grass-free wildflower lawn made up of violets, buttercups, cornflowers and bellflowers. The bench is situated close to the ever popular 'John's Van' that has been serving food to students and staff for over 30 years. The family hopes that students and staff will enjoy the bench and the surroundings for many years to come.
David's family have also very generously donated to set up a new prize in his memory within the School of Education. The David Bradshaw Prize has been endowed and will be awarded annually to one outstanding student in their final year of undergraduate study who has shown excellent engagement in teaching and learning and given a significant contribution to peer learning and the programme community.  
David Bradshaw (1929-2011) was born in Rushden, Northamptonshire and attended Wellingborough Grammar School. David took the first of his four degrees from the University of Sheffield studying a BA History degree and graduating in 1950. Following that he decided to pursue a career in education and took a teaching diploma in Sheffield completing in 1951. 
David's distinguished career was occupied with teaching and educational leadership in schools, colleges and universities. After a spell in Ghana, David was inspired to write an MA thesis on the history of education in Ghana. He achieved his third degree from Sheffield in 1966 graduating with an MA in Education.  
David worked for many years at the Sheffield City College of Education, where he became deputy principal and later went on to become principal of Doncaster College of Education, today's Doncaster College. From this grounding, he took an interest in wider educational and social matters becoming an influential member of regional and national bodies. In 1986, he was awarded an OBE for services to education.
Even after retirement, David continued to pursue his educational interests. He was involved in the development and early years of the Queen's Prizes for Universities and Colleges and also worked as a consultant with the Department for Education and Employment (DfEE).
His most notable and sustained contribution was to the University of Sheffield where he served on the Council, Convocation and the Executive Committee which he chaired from 2006 to 2009. In addition, he was on many University committees and working parties, especially those devoted to the welfare of students: university halls of residence, teaching and learning, an English language teaching centre and the development of a health centre. In 2003, he was awarded an Honorary Doctor of Letters (LittD) by the University for his 'remarkable' contribution. 
In a note found after his death, 'About myself for last things', he hoped to be remembered also for his liking of funny stories and his love of hill walking, music poetry, fine art and cricket. He took great care of the individuals within the organisations he led, remembering their personal battles against hardship and poor health. In some ways, his own success surprised him and he felt honoured to take up the positions he was offered in life. His final comment noted an 'ongoing search for knowledge at its growing edge'. 
The University will be forever grateful for Dr David Bradshaw's rich contribution for so many years of his life. We are proud that his memory lives on through the prize in the School of Education and the bench on central campus.