Dr Keith Clarkson receives Professor Robert Boucher Distinguished Alumni Award 2019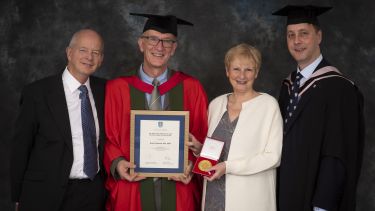 With a BSc Zoology in 1979 and PhD in Zoology in 1985, he is an expert in visible migration and his work to make the Royal Society for the Protection of Birds' Bempton Cliffs nature reserve accessible to all has resulted in visitors experiencing the lives of seabird colonies in amazing detail.
Keith is a lifelong birdwatcher who has seen his hobby become a career. Keith's interest in nature began when he was at primary school in Sheffield and was encouraged by his parents and teachers.
He started to study Natural Environmental Science at this University; however, after two years he realised he was enjoying his social life more than the course. Then he attended a lecture on zoology by a new lecturer, Tim Birkhead, now Professor of Behavioural Ecology, who recalls:
---
Keith is intuitively bright. Some students work at being clever. He was sharp and very quick on the uptake and he knew how birds behaved.

Prof Tim Birkhead

Professor of Behavioural Ecology
---
A switch to a Zoology degree (graduating in 1979) saw Keith working closely with Professor Birkhead on a project investigating the magpie population in the Rivelin Valley, which morphed into the subject of his PhD, completed in 1985. He also became Professor Birkhead's field assistant in California, Labrador and the Arctic, where his knowledge of bird behaviour was invaluable.
Keith continued living in Sheffield, working at Weston Park Museum followed by a post at Losehill Hall, the Peak District National Park's education and learning centre, before joining the RSPB.
---
It gave me the opportunity to work on seabird research, and bring together staff, volunteers, local residents, businesses and visitors to safeguard the seabirds whilst creating one of the UK's great wildlife destinations.

Dr Keith Clarkson

Zoology PhD (1985)
---
Six years ago, he found his dream job as site manager for Bempton Cliffs. Under his management, Bempton secured £1.3 million to fund a new visitor centre, footpaths and viewing platforms. He also proved highly successful in motivating an enthusiastic group of over 120 volunteers, without whom the reserve would not be the tremendous success it is today. Bempton Cliffs hosted a BBC Springwatch Easter Special and the new facilities were opened in April 2015.
The annual visitor numbers increased from 40,000 to over 110,000. The reserve is now the heart of real growth in nature tourism on the Yorkshire coast, generating new jobs, investment in tourist accommodation and the creation of new wildlife tour businesses.
Profits from the new visitor centre funded a seabird research assistant whose work transformed our knowledge of the seabird populations. This critical data-informed local developments including the establishment of the Flamborough and Filey Coast Special Protection Area.
Now retired, Dr Clarkson is acknowledged as the 'guru of visible migration' and he continues to apply his skills at Hunmanby Gap, close to Bempton Cliffs. He is also a popular speaker and tour leader, always keen to share his expertise and enthusiasm with the birdwatching community and wider public.
In recognition of his dedication to increasing access to wildlife and his contribution to our knowledge of the UK's bird populations, we are delighted to honour Keith Clarkson with the Professor Robert Boucher Distinguished Alumni Award 2019.
The Professor Robert Boucher Distinguished Alumni Award
The Professor Robert Boucher Distinguished Alumni Award, for alumni of the University, is named in honour of the late former Vice-Chancellor Professor Robert Boucher.
Professor Boucher had a great interest in alumni relations and gave so much to the city of Sheffield over a period of 40 years. He fully appreciated the important contribution that alumni continue to play in the life of a University and was responsible for establishing the University's Development and Alumni Relations Office in 2002.