Faye Savory receives the Professor Robert Boucher Distinguished Alumni Award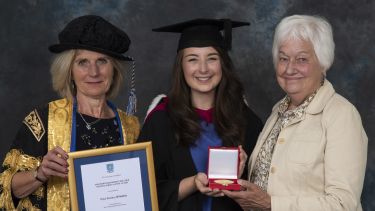 Her time at Sheffield did not disappoint. As part of a close-knit year group, Faye made some of her best friends here – some of the most important people in her life today. She also landed her dream job while completing her degree, as a speech and language therapist on the Isle of Lewis. Flying up to the Outer Hebrides for interview she was taken to a beautiful beach and remembers: "The sea was so blue it looked like it could have been the Caribbean." She didn't hesitate to accept the job, with the opportunity to work in such a magical place.
Yet fate intervened and after just a couple of years, Faye fell seriously ill and was finally diagnosed with Lyme disease. She returned to Sheffield as it was one of the few cities that offered the medical support she needed; she was familiar with the city and had close friends here.
Faye struggled physically and at times needed a wheelchair. One day, she received a care package from a friend; this act of kindness felt like a 'virtual hug' and really helped her cope with such a challenging time. It also sparked an idea that ultimately led Faye to set up her own business, BearHugs, which produces personalised 'hug in a box' gift hampers. In just three years, the enterprise has outgrown two premises, taken on six members of staff and sent out over 25,000 hugs.
Faye's health meant she was unable to return to speech therapy, but she had never imagined running her own business. She received invaluable support from the Prince's Trust and University of Sheffield Enterprise, who connected her with a start-up coach and social enterprise specialist. The turning point was winning the USE Start-up Showcase. The £5,000 prize enabled Faye to move into her own office and develop the BearHugs brand. Further accolades include a Prince's Trust NatWest Enterprise Award, a Duke of York Young Entrepreneur Award and a HELLO! magazine #HelloToKindness Award.
For Faye, ensuring BearHugs is a Disability Confident employer is an essential part of the business. She says:
Over half our team works remotely and flexibility is built into everything at BearHugs. For our brilliant remote BearHugs employees, this generally means the freedom to complete their hours and responsibilities when their health permits, rather than at a prescribed time."

Faye Savory

Chief Sender of Hugs at BearHugs
She is proud of building a team that has proved that remote, flexible, accessible working can be just as efficient and effective as traditional employment, and hopes to encourage other employers of the benefits. Her profile is such that she was invited to take her BearHugs outreach assistant to No 10 Downing Street for a roundtable discussion about inclusive employment.
From the beginning, Faye was also determined to support charities through her business and wanted kindness to be at the core of everything they did. Now for every 50 gift boxes they sell they donate a personalised hug-in-a-box for someone affected by serious illness based on the recommendations of the charities PostPals and Project Parent. BearHugs is particularly proud to support Bluebell Wood Hospice in Sheffield.
With the wonderful title of Chief Sender of Hugs, Faye has gone from strength to strength, using her own experiences to bring joy into people's lives and inspire us to overcome challenges. She regularly goes to schools to coach children and is an example for us all.
The Professor Robert Boucher Distinguished Alumni Award
The Professor Robert Boucher Distinguished Alumni Award, for alumni of the University, is named in honour of the late former Vice-Chancellor Professor Robert Boucher.
Professor Boucher had a great interest in alumni relations and gave so much to the city of Sheffield over a period of 40 years. He fully appreciated the important contribution that alumni continue to play in the life of a University and was responsible for establishing the University´s Development and Alumni Relations Office in 2002.