Golden Globe Race 2022 - raising money for SITraN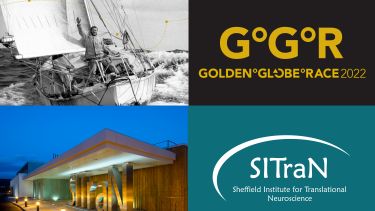 Donate to the Golden Globe Race 2022
The 2022 Golden Globe Race began from Les Sables d'Olonne this Sunday with 23 skippers taking part. And it's expected to take nine to ten months to complete. The event marks the anniversary of the Sunday Times Golden Globe solo non-stop round-the-world race in 1968-69.
Skippers are limited to sailing similar yachts and equipment to what was available to Sir Robin Knox-Johnston, the winner of the first race in 1968. That means sailing without modern technology or the benefit of satellite-based navigation aids.
The Golden Globe Race is proudly supporting the University of Sheffield's Institute for Translational Neuroscience (SITraN). Founder and Golden Globe Race Chairman, Don McIntyre, has been a supporter of SITraN's work for over a decade.
SITraN is such a prominent centre of excellence for neurological conditions which affects so many people and we are very proud to support their work."

Don McIntyre, founder and chairman of Golden Globe Race
And the University of Sheffield has Stuart Keane, Founder Patron of SITraN, to thank for this partnership. Here Stuart explains why SITraN is a cause so close to his heart: 
My son Shaun died of MND after suffering with it for two and a half years.

SITraN gives people hope where there was no hope. It is the world's first purpose built, dedicated research institute for MND, Alzheimer's and Parkinson's disease. And it relies on charitable donations to buy very specialised medical equipment. For example, the new MRI-PET scanner, one of only seven in the UK, and the first in Yorkshire.

With our support, SITraN can continue to further their research into life-changing treatments. Treatments that mean that, one day, other families won't have to experience the loss that my family has.

Please consider supporting this most worthy of causes. And together, we can help find the cure."

Stuart Keane, Founder Patron of SITraN
SITraN are leading the way in developing powerful new therapies for diseases of the brain and central nervous conditions. Diseases that are sadly all too common. Diseases such as Motor Neurone Disease, Alzheimer's and Parkinson's Disease.
Opened in 2010 by Her Majesty The Queen, SITraN brings together experts in a range of interconnected neurological disease areas into one team, in one location, to pioneer new treatments that improve the lives of patients and their families.
For patients with a form of motor neurone disease caused by an inherited mutation in the SOD1 gene, SITraN are on the brink of offering life-changing therapies. Similar breakthroughs are on the horizon for other common disorders such as Parkinson's disease, and rare and often lethal conditions like spinal muscular atrophy (SMA), which afflicts young children.
We are thrilled to be associated with this prestigious event. GGR's support and awareness-raising will drive our research effort to a new level for the benefit of patients with neurological conditions.

Donations enable us to develop exciting discoveries, emerging from basic neuroscience research, into experimental medicine studies aimed at developing new treatments and better outcomes for our patients. Thank you and good luck to all the skippers!"

Professor Dame Pamela Shaw, Founding Director of SITRaN 
We wish all the skippers the best of luck with their terrific challenge!