Record year for our Volunteering programme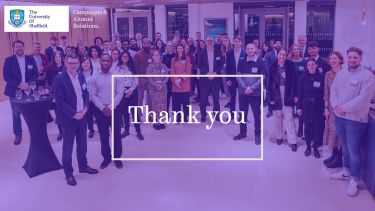 As we prepare for yet another exciting academic year here at Sheffield, we would like to take a step back and celebrate what a great year our Volunteering programme had.

During last year we had 1,504 alumni and friends volunteering their time to the benefit of our students. Volunteers joined us from 56 different countries and in total we saw 18,351 hours given to support over 8000 students!

In 2021/22 we ran several programmes aimed at helping students develop their professional network, get industry insights and grow their confidence. 

This was the first year we ran Coach Cafe, an online programme for widening participation students of alumni to student networking events taking place across the University. Students from each faculty heard from alumni about graduating and navigating the world of work. A total of 6 Coach Cafe events took place last year. Our flagship London City Connections event returned in 2022. Students from underrepresented backgrounds went to London to speak to alumni that shared their experiences of living and working in the capital.
Alumni volunteers also took on the Engineering You're Hired and Global Engineering Challenge 2022 project days to help first and second year students tackle real life engineering problems. 

Our alumni volunteers also helped prospective students. Ask a Graduate is a programme of online panel events that aim to help international prospective students make the right decision for their future career.

Thank you to all of our alumni and friends for an outstanding year of volunteering activities. Your support is invaluable to the University and you help to inspire the next generation of Sheffield alumni.