Santander Universities donations reach magic million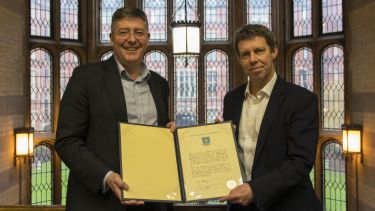 The University has had a relationship with Santander since 2010, which has seen the bank's total donations to the University through its charitable arm soar to over £1,000,000. Over the last 10 years, Santander has supported a huge number of initiatives across all areas of the University - shaping and changing the lives of thousands of students for the better.
I am truly grateful for this scholarship and all the new experiences that it will provide. Thank you Santander for enriching my life and time at the University of Sheffield."

Maisy Morris

BA History student
The latest 3-year agreement will be used to fund a wide variety of opportunities including scholarships for widening participation students and elite athletes, enterprise support for student and graduate business start-ups, internships, as well as overseas work, study and volunteer opportunities to boost career prospects.
Professor Koen Lamberts, President and Vice-Chancellor of the University of Sheffield, said: "We are incredibly grateful to Santander Universities for their support of our students over the last decade. Their generosity has allowed thousands of Sheffield students to enhance their education through life-changing opportunities and we are delighted that many more students will benefit in the years to come."
I am very grateful and thanks to the scholarship, I will be able to have the time to volunteer at various places while I am here in Sheffield to give back to the community and make a difference. Thank you."

Arinola Abiola

BSc Biomedical Science student
Since 2007, Santander Universities has been supporting universities across the UK and they are committed to continuing that long into the future. Santander's key initiatives are Education, Employability and Entrepreneurship. All of the opportunities they offer have student progression at their heart.