The Story of Dorothy Fleming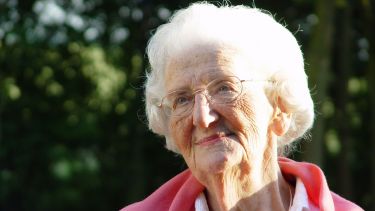 A passion for education that lives on
Dorothy was born in Vienna in 1928. She had the best childhood anyone could wish for – until Hitler's Nazi Germany annexed Austria in 1938. Jews, including her family, were persecuted in every possible way, and only a few managed to escape.
Though she was only 10 years old, Dorothy's parents felt they had no choice other than to send her and her 4-year-old sister, Lisi, to England on one of the 'Kindertransport' trains, not knowing if they would ever see them again. Incredibly, their parents did manage to escape and the family were reunited in England, where Dorothy went on to have an incredible career.
Dorothy completed her basic education in Cardiff and left school early to work in a laboratory as a way of supporting her family. Years later, she made the move to Bath where she discovered her passion. She began training as a teacher and later went on to establish Sheffield's first Jewish kindergarten, where she was the headteacher until her retirement. In the years following, she attended the University of Sheffield to study psychology graduating in 1979. During her studies she used her classroom experience to become an expert lecturer within her field and was very popular with her students.
Following her retirement, Dorothy took on new educational commitments, this time on a voluntary basis. She began volunteering to educate adults and children about the Holocaust, where her own grandmother, her husband's parents and many other relatives were among the six million Jews who were murdered. She gave over 400 lectures, was interviewed by researchers, authors and archivists, and appeared on TV. Eventually, declining health slowed Dorothy's activities, but not before she had met Prince Charles a couple of times who showed a good understanding of her work and was very supportive. 
Dorothy's life was dedicated to education and she believed it was the responsibility of each generation to develop themselves, understand history and to pass on the most important values to future generations. 
Continuing Dorothy's passion for education, her gift has been allocated to support the University's MakerFutures programme. Maker education is a growing movement providing young people with the skills, knowledge and habits of mind to tackle real world problems using both high- and low-tech tools, materials and technologies. Dorothy's gift has been used to support a local school to help them set up a maker space to foster a new generation of young people to have a confident, creative and critical thinking mindset. 
The University would like to thank Dorothy's family for providing information about her life, and the National Holocaust Centre and Museum for providing the beautiful photo of Dorothy.  
If you would like to follow in Dorothy's footsteps and leave a gift in your Will to the University, please contact the University's Legacy Officer, David Meadows, on 0114 222 1073 or d.meadows@sheffield.ac.uk.