Susanna Chiu Receives Distinguished Alumni Award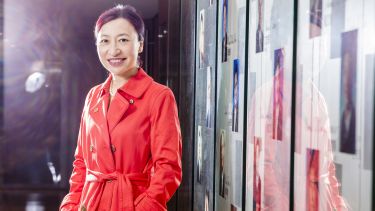 Susanna is the Director at Li & Fung Development, China Limited, but started her career at accountancy firm Grant Thornton in Sheffield, following her first class economics degree, which included winning the Tassie Medal for academic achievements in Economics.
Before moving back to Hong Kong over twenty years ago, Susanna started making an impact on Sheffield's Chinese community, setting up the UK's first independent Chinese Women self-support group, the Lai Yin Association, helping Chinese women to integrate into the community. She was also founder, producer and presenter of the first Chinese radio programme, Mui-Fa, meaning "cherry blossom", on BBC Radio Sheffield. These efforts to improve communities and society continued through her career.
Susanna now lives and works in Hong Kong, a computer auditor by profession with over twenty years of professional experience in information systems audit and controls review, software consulting, system implementation and business management. She is the President (and a founding member) of the University of Sheffield's Hong Kong Alumni group, as well serving on the University's Management School Advisory Board.
She has been a passionate supporter of the University and the city of Sheffield which she came to love as a student. Her professional achievements too, are worthy of note.
In 2013, Susanna was the first woman in almost 40 years to secure the senior position of President of the Hong Kong Institute of Certified Public Accountants (HKICPA). This statutory licensing body of accountants is responsible for the professional training, development and regulation of over 35,000 accountancy professionals in Hong Kong.
Also during 2013, Susanna was awarded a 'Medal of Honour' by the Hong Kong Special Administrative Region government for both her contribution to the community and her achievements in the accountancy profession. And just earlier this year, she featured in "Women of our Times" in the South ChinaMorning Post in recognition of her achievements to society.
Susanna has been a dedicated role model promoting the University of Sheffield and its alumni activities in Hong Kong and throughout the world. It is for this, along with with her outstanding contribution to business, and her professional achievements, that she has been recognised.
The Professor Robert Boucher Distinguished Alumni Award
The Professor Robert Boucher Distinguished Alumni Award, for alumni of the University, is named in honour of the late former Vice-Chancellor Professor Robert Boucher.
Professor Boucher had a great interest in alumni relations and gave so much to the city of Sheffield over a period of 40 years. He fully appreciated the important contribution that alumni continue to play in the life of a University and was responsible for establishing the University's Development and Alumni Relations Office in 2002.