Thank you to our scholarships fundraisers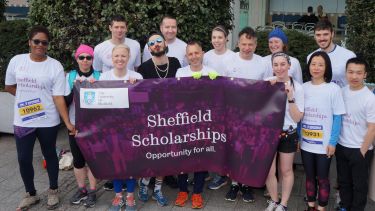 A massive thank-you to all our fundraisers this year for their fundraising efforts for Scholarships at the University of Sheffield. From running through torrential rain in the Sheffield 10K to the thousands of miles walked under the sun for the Big Walk - and everything else in between – we are hugely appreciative of everyone's dedication and commitment.
 
Thanks to every one of our fundraisers, we have raised over £52,000 from Community Fundraising. This is enough for nine undergraduate scholarships and four matched postgraduate scholarships. We hope that all our fundraisers are very proud of this achievement. Their work has helped to provide disadvantaged students with a lifeline that will carry them through their time at university. 
This year 214 undergraduate and 57 postgraduate students received donor-funded scholarships - our highest total to date! It is fantastic to see how fundraising is making a difference to so many students' lives. We received over 1,600 applications for scholarships this year, demonstrating the importance of funding each extra student reaching out for financial help.
 
The scholarship has been extremely helpful in making sure I can work to the best of my ability, have a good mental and physical well-being and keep a normal social life. I can continue to push back against the ingrained obstacles against working class people in society and try to better myself as well as possible future generations of my family. Without the scholarship, I would not have been able to get all the resources necessary to have a normal university experience."

University of Sheffield MEng student