University Centenary Celebrations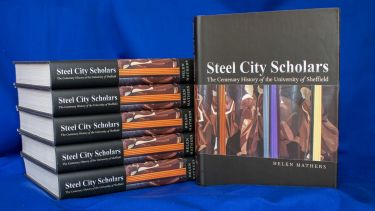 Centenary Sculpture Unveiled
As part of the University's Centenary celebrations, a piece of sculpture was commissioned from the sculptor Mark Firth. The work is entitled 'On the Primacy of the Square and it has now been installed on the main staircase of Firth Hall. It was officially received by the Vice-Chancellor, on behalf of the University, on 22 July.
It was Mark's great-great grandfather – also named Mark Firth – who was the original benefactor of Firth College. Firth Court on Western Bank takes its name from this important Sheffield benefactor, who also founded Firth's Homes in Nethergreen Road, Sheffield.
For our Centenary Year, the trustees of Firth's Homes have kindly loaned us portraits of both Mark Firth and his daughter, and these are now located on the corridor next to the new piece of sculpture.
---
New University history launched
On Friday 6 May the new University Centenary History, Steel City Scholars, was launched at a special reception in Firth Hall.
More than 250 invited guests gathered to hear the story of how Steel City Scholars was put together. The Vice-Chancellor, Professor Bob Boucher, praised this new account of the University's first 100 years, produced to the highest standards of scholarship and readability. Unlike previous histories, Steel City Scholars is based on many personal accounts and memories of hundreds of staff and former students.
Amongst the guests at the launch was one of the University's most well-known graduates, the Rt Hon David Blunkett. He took time out from his busy post-general election schedule to share with the audience some of his own memories of his time as a student at Sheffield, before leaving for Westminster, where he was later announced as the new Secretary of State for Work and Pensions.
---
Joe Scarborough painting presented to University
The Joe Scarborough painting 'Our University', was formally presented to the University by the Sheffield University Association of Former Students (SUA) on Saturday 23 April.
The painting was commissioned by the SUA to commemorate the University's Centenary Year.
Mike Bennett, SUA President, invited the artist Joe Scarborough to present his work to the Vice-Chancellor, Professor Bob Boucher, at the Association's Annual Dinner.
The painting will be displayed on central campus.
Proceeds from the sales are providing scholarships to gifted students whose financial situations are difficult.