University of Sheffield pays tribute to former Vice-Chancellor, Professor Geoffrey Sims OBE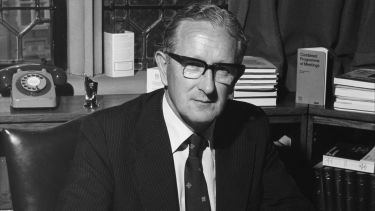 Professor Sims, who served as Vice-Chancellor from 1974-1990, led a distinguished career nationally and internationally and remained a close friend of the University following his retirement.
Professor Sir Keith Burnett, President and Vice-Chancellor of the University of Sheffield, said:
"On behalf of the University – its staff, students and alumni – I wanted to express our sincere condolences to Professor Sims' wife Pamela and to his family at this time of loss. I also wanted to place on record the University's gratitude for all that Geoffrey did for this University and the city of Sheffield.
"Sheffield was very fortunate to recruit Professor Sims from Southampton to become our tenth Vice-Chancellor and he led the University through a period of great change during the 1970s and 1980s. He chaired many influential national committees during his career and served with distinction on several international bodies concerned with university affairs in the developed and developing world. We were honoured to recognise all of his achievements through the award of an Honorary LLD in 1991."
He added: "Professor Sims and his wife Pamela retained a great interest in the life of the University – and it was always a pleasure to see them at University events. He will be greatly missed. I will be arranging for the University Flag on Western Bank to fly at half-mast on the date of his funeral as a mark of respect to him for all that he did for this University."
Professor Sims arrived at Sheffield with a remarkable record of achievement and public service. He had degrees in Mathematics, Physics and Electrical Engineering and his experiences as a student ranged from years of part-time study at Chelsea Polytechnic to doctoral work with a future Nobel Laureate.
After work at Harwell, he joined the academic staff at University College, London. At the age of 36, he moved to the Chair and Headship of the Department of Electronics in Southampton, where he soon became Dean and a Deputy Vice-Chancellor.
In these years, he made important contributions to the Institution of Electrical Engineers and the Economic Development Committee for the Electronics Industry, the British Association for the Advancement of Science, and the British Library.
In 1971, Professor Sims was honoured by the Queen when he was made an Officer of the Most Excellent Order of the British Empire (OBE).
He was appointed Vice-Chancellor of the University of Sheffield in 1974 and, when he retired in 1990, he left a university transformed in its physical appearance with a proud reputation for its excellent teaching and research.
During his tenure, Professor Sim took seriously the involvement of the University in the local community, playing an active role as a governor of local schools and as a member of the commercial and cultural bodies of the city.
He was also devoted to his work for higher education, active in both the work of the British Council and the Association of Commonwealth Universities.
In 1980, he was made a Fellow of the Academy of Engineers.