David John Henderson obituary
Born 1985, died 2016. A graduate of the Department of History.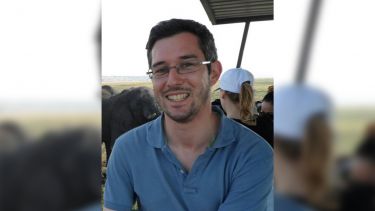 David was born in Essex, England on the 8th August 1985 and passed away at the age of 31 on the 5th December 2016 in London. David developed type one diabetes whilst in his second year at Sheffield and regrettably this was the cause of his untimely death.
After leaving the University of Sheffield, David worked for the Institute of Marine Engineering, Science & Technology (IMarEST) where he achieved the position of Institute Registrar with responsibility for professional development. A position that he loved. David was a constant advocate of professionalism and competence, and married these attributes with being a kind, gentle, courteous and dependable person who never had a bad word for anybody and who could also see the humour in any situation.
In recognition of his work achievements and contribution to IMarEST, David was elected posthumously to the category of 'Honorary Fellow' at a ceremony in the Guildhall in London on the 16th March 2017.
David loved sports of all kinds and was a competent Footballer, Skier & Scuba Diver, and a Black Belt in Judo. He was an avid traveller and had recently completed trips to Japan and South Africa. In recognition, of David's spirit as an adventurer with a boundless passion for travelling and taking part in all manner of sports and outdoors pursuits, IMarEST have established an annual award in David's name which will provide a grant to young people who are able to inspire public interest in the oceans and seas, and to explore how human activity is affecting them.
David leaves behind a brother, Paul, and his mother and father, Anne and John. David's death is our silent grief but his life is also our beautiful memory. He is greatly missed.
Further tributes can be found on David's Just Giving page at www.justgiving.com/fundraising/DavidJohnHenderson