Dr Roger George Baxter - Alumnus
"He was an unassuming man, but a strong leader along whichever path he chose to follow." - Dorothy Baxter, Roger's wife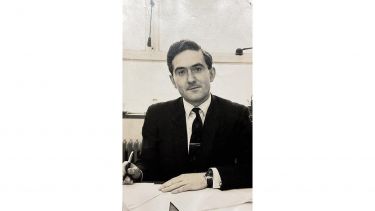 Dr Roger George Baxter sadly died on the 21st of February 2022. He graduated from the University of Sheffield with an honours degree in Maths in the summer of 1963. Roger's life was rooted in maths, so naturally, he followed this with research in Applied Mathematics combining numerical analysis methods with computing to model the behaviour of the magnetosphere. Roger was awarded his Doctorate in 1966 for his research into electron density diffusion in the F2 layer of the ionosphere. 
At Sheffield, Roger was active on JCR (Junior Common Room) and was among the leaders who transformed the disparate committees of Drama, Opera, Ents (Entertainment) and Stage into a unified, mutually supportive Theatre Group. He became its first Chairman and produced and directed seven fully staged operas. He continued this activity with his like-minded friends in forming a new amateur opera company, OPERA 14, which after a merger with the Sheffield Grand Opera Company still exists today as South Yorkshire Opera.
Supported by The Goddard Space Flight Center and Maryland (now known as NASA) Roger and Professor Peter Kendal had their work recognised by the Royal Society in a 1968 publication. Professor Derek Allan appointed Roger directly to an Applied Maths full-lectureship post which he fulfilled from September 1966 until March 1970. 
Whilst working here, Roger married his wife Dorothy in 1967. Dorothy was also a Sheffield graduate in Maths and Physics. 
A career change to secondary-level education began Roger's time at Winchester College, followed by a Headship at Sedbergh School in Cumbria in January 1982.
After he 'retired' to the South Lakes in 1995, Roger used his wide education network and background to assist international and overseas parents with UK boarding school selection and placements. Over a  period of some 15 years, UAE and Bahrain friendships were fostered with personal assistance to the UAE Minister for Higher Education and others of his family and also with the Crown Prince of Bahrain through his personal Scholarship Programme for Bahrain nationals (CPISP).
For 23 of his final 26 'retired years' whilst living on the Cartmel Peninsula in the Cumbrian South Lakes, his life was anchored in service to medieval Cartmel Priory as one of its three Church Wardens and Treasurer. The Church prized his energy, determination, organising skills, love, and humility, deeply feeling and sharing too, in the loss of his family. He is survived by his wife, son and daughter, their spouses and two grandchildren.
The University would like to express our thanks to Dorothy Baxter for the information and photographs provided.