Dr Shree Vishna Rasiah obituary
Born 1971, died 2020. A graduate of the School of Medicine and Dentistry.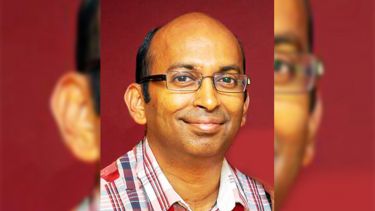 Shree Vishna Rasiah (known as Vish to friends, family, and colleagues) was a well respected and much loved consultant neonatologist at Birmingham Women's Hospital. Born in Kuala Lumpur, Malaysia, Vish spoke Tamil, Mandarin, and Malay in addition to English. After completing his undergraduate medicine in Adelaide, he came to south Yorkshire, training in Bradford and Sheffield before joining Professor Andrew Ewer's research group in Birmingham. He joined the Birmingham Women's Hospital (BWH) as consultant neonatologist in 2007. He contributed to neonatal care at local, national, and international levels. He encouraged and mentored innumerable junior doctors and medical students, supporting original research, peer-reviewed publications and presentations in meetings and conferences. He had been the tireless clinical lead for the South West Midlands Neonatal Network for several years by the time of his death. He was extremely dedicated and worked hard to improve the standard of care for babies and their families in the region.
Vish held various positions, including member of the ethics committee, regional lead for training, and perinatal mortality reviewer. He was a neonatal life support instructor. His passion was for neonatal cardiology and he helped set up and develop the service at Birmingham Women's Hospital . His research precisely defined the outcomes for antenatally diagnosed congenital heart defects and received international acclaim. He also published many wise articles on the practical aspects of diagnosing heart defects after birth and taught cardiac echo skills to many doctors in training. He lent his enthusiasm and energy to the Libby Mae's Little Angels charity to raise resources for purchase of medical and family friendly equipment in regional neonatal units. He featured in an episode of the BBC programme Life and Birth that was filmed in August and September of 2019 and televised in May 2020.
Vish had the magic touch, and everyone who knew him adored him—he had a way to bring people together, to make everyone feel important and supported. He called everyone "Boss", and this became his nickname. He remained a quiet and humble, unassuming person despite his wonderful accomplishments and skills. Birmingham Women's Hospital was his second family. Special days—such as World Prematurity Day—other special occasions like retirements on the neonatal unit had to be celebrated with exciting food and captured by his signature group photographs, which were shared widely. He was well known for his beautiful handwriting and meticulous precise informative note keeping. He loved all kinds of food, but Chinese food was his favourite. In 2003 he met Liza, who was also training in paediatrics. After a fairytale romance, they were married in 2005.
Vish will be remembered as an amazingly intuitive clinician; a wonderful teacher; a kind, selfless, and compassionate human; and a devoted husband and father. He leaves his beloved wife, Liza; his beautiful 6 year old daughter, Katelyn; loving families in Malaysia and Trinidad; and an irreplaceable space in the hearts of so many.
Consultant neonatologist (b 1971; q Flinders University, Adelaide 1995; MRCPCH, Dip Med), died from covid-19 pneumonitis on 23 April 2020,
Originally published in the British Medical Journal