Dr Yusuf Ismail Patel obituary - A proud Sheffield alumnus
A graduate of the School of Medicine (MB ChB Medicine 1984). Born 1958, died 2020.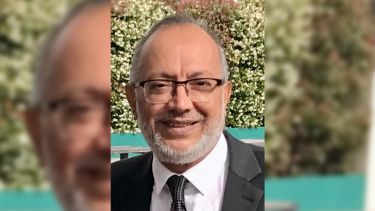 A devoted husband, father, brother and son, Dr Patel lost his fight against Coronavirus in April 2020.
A committed doctor right to the last - Dr Patel dedicated his life to helping others. From Gujarati heritage, he came to Britain as a child from Malawi and grew up in Ilford, Essex. He went on to study Medicine at the University of Sheffield from 1979-1984, and had even kept hold of his yearbook. 
He spoke so fondly of his time in Sheffield that one of his daughters followed in his footsteps and is currently in the third year of her Medical degree here at the University.
Completing his GP training in Blackburn, Dr Patel went on to open Woodgrange Medical Practice in East London, taking it from a derelict bank to the thriving hub of the community serving 15,000 patients it is today. Described as a 'pioneering practitioner' by the Mayor of Newham and 'the life and soul of any party' by his beloved Medical Practice colleagues; being the best doctor he could be, and serving the community and area that he loved, were all the motivations Dr Patel needed.
He also managed to find the time to fit in West Ham United matches with friends as a passionate season ticket holder, as well as a love of the TV comedy 'Only Fools and Horses'. But family was at the centre of everything Dr Patel did. He took his family on a whistle stop tour of India in December 2019 seeing many beautiful landmarks, as well as visiting family in the villages of Gujarat. He also enjoyed a game of his beloved cricket by the side of his uncle and older brother.
Dr Patel's loss is a tragedy for so many reasons, not least because he made the ultimate sacrifice in trying to save others from this devastating Coronavirus, but more so because the world can no longer benefit from his kindness, generosity of spirit and sincerity. 
As his family describe: "this is not just our loss, but one for every heart that he has touched". 
His infectious smile and legacy will live on through his children and that, even in death, he has raised a huge amount for different charitable causes close to his heart. If you would like to contribute, please find the link at the end of the article. It is truly testament to a hero that he has enriched so many lives and will continue to do so long into the future.
The University offers condolences to all of Dr Patel's family and friends and would like to thank Dr Patel's daughter Rumaysa for providing the information and photographs.