Gwendolyn Bridges obituary
Born 1925, died 2016. A friend of the University of Sheffield.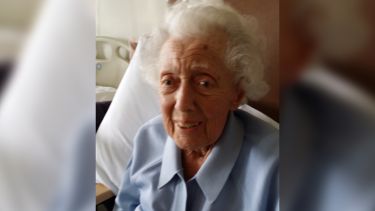 The University is very grateful to the late Gwendolyn Bridges, a local resident, who has left a generous legacy of over £86,000 to support the Mellanby Centre for Bone Research at the University's Medical School.
Revd. Monica Sutton gave the eulogy at Gwen's funeral and spoke of Gwen as "a very humble person who was much loved. Despite suffering with arthritis for many years and being the owner of a fair number of artificial joints, she never grumbled. She was feisty to the end, a force to be reckoned with but oh so loved and so grateful for the care she received at the Northern General Hospital."
Other generous bequests were made to Arthritis Research UK and Joint Action of the British Orthopaedic Association.
Gwen was born in Leeds in 1925 and her family moved to Firth Park in Sheffield a few years later. She left school at 14 years of age and after training as a shorthand-typist took up office work. During the war women and girls not engaged in essential work were conscripted into the forces, nursing or even heavy industry. In 1943 she entered the nursing profession at Firvale Infirmary, nursing mainly the chronically sick and geriatric patients, and qualified as a State Enrolled Assistant Nurse.
In 1946 she left to return to the commercial world, joining Kayser Ellison and Co Ltd where she stayed until her retirement in 1985. She started as a shorthand typist and clerk in the Sales Department but also undertook management training in the evenings at the Polytechnic and became a member of the Administrative Management. As a result of this Gwen became Secretary to the Director and Secretary of the Company. In 1960 Kayser Ellison merged with Sanderson Brothers and Newbould and Gwen became Secretary to the Group Chairman and Managing Director, a position she held for around 20 years.
Gwen enjoyed her "single blessedness" and continued to live in the family home with her dearly beloved mother who died in 1986 aged 91 years. She joined St Cuthbert's in 1987, becoming a member of the Women's Fellowship, which she chaired for some years. She was also a member of the Parochial Church Council for some 13 years. A lover of gardening and flower arranging, Gwen led the flower team at St Cuthbert's for many years.
She was an avid reader and said one could never be lonely if one had a good book, and also enjoyed a love of travel both home and abroad, the mountains and lakes of Scotland and the Swiss and Italian lakes being great favourites.