Julie Tereshchuk - obituary
The University of Sheffield were shocked and saddened to learn of the death of the late Julie Tereshchuk in May 2022 after a two year battle with lung cancer.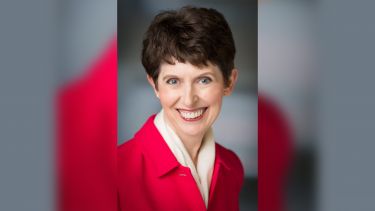 Through her husband Trevor Richards, Julie has been associated with the University since 2005. But it was over dinner in 2008 in New York with the Nobel Prize winner Richard Roberts that really sealed Julie's connection to the University of Sheffield. Trevor was invited as a member of the University of Sheffield in America board and Julie cemented her role as a very important advocate. Over the next 14 years Julie helped to organise mixers and reunion events in Texas as well as attending many events in the UK. Julie loved to meet new people, connecting them to others and being a contact for anyone who needed support. 

Julie and Trevor were always up for a challenge and they both took part in the Big Walk in 2017, 2018, 2019 raising money to support the Sheffield Scanner appeal and Experience Sheffield Scholarships. 
During her career, Julie spent time as a freelance writer, editor and journalist. She was the Special Features Editor for the Austin Woman Magazine and was a president of the Metropolitan Breakfast Club. Julie also served as the president of the Women Communicators of Austin and was passionate about supporting and mentoring the future generation of women communicators. Julie was honoured by the organisation on numerous occasions, receiving the President's Award in 2004, the Gladys Whitney Hearst Outstanding Member Award in 2007, and the Leadership Award in 2015. 
Julie's final role was as the editor-in-chief of the Texas Lifestyle Magazine. For nearly 8 years, Julie worked tirelessly to organise, assign, edit and create the very best lifestyle magazine for all of Texas. Julie was passionate about helping others and mentored young interns, helping them to become skilled writers.
The University is grateful for Julie's contributions over the years to support the work of the University of Sheffield in America. Julie was a role model and mentor to many. Always happy to lend a helping hand and offer advice.  
 
A selection of tributes left in-memory of Julie.
Jonathan Wong
Carol and I are so deeply saddened to hear of Julie's passing. Of the many people we looked forward to connecting with during our University of Sheffield in America Alumni Board days, Julie, and you, were two of our dearest, fondest people. To us Julie was one of the most genuine, one of the most gracious, and thoughtful people we enjoyed seeing for our reunions. We will dearly miss her. Our deepest sympathies to you and your families. 
Ceris Morris 
Julie was such a wonderful supporter of the University of Sheffield (Trevor's alma mater), joining us for our annual Big Walk in the Peak District with enthusiasm and a big smile - I always thought of her as an adopted alumna. She was always wonderful company and a thoughtful host. My heart goes out to Trevor. Such a devastating loss.
Claire Brownlie 
I was so sorry to learn of Julie's passing. I always enjoyed our chats at University of Sheffield alumni gatherings. Such a lovely lady. Deepest condolences to you and all those who loved her.