Born 1924, died 2017. A graduate of the School of Law (LLB Law 1949, Honorary MPhil 1984).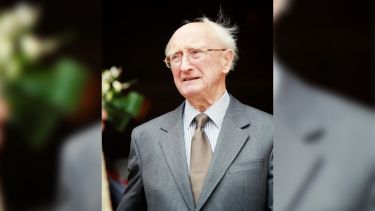 Retired Sheffield solicitor, Michael Goode, who spear-headed the original fund raising campaign for the first body scanners at the Hallamshire hospital, died on 28 March, in Sheffield, aged 92.
Michael graduated from the University of Sheffield in 1949 and spent a long career as a solicitor in Sheffield. Originally in partnership with William Wordsworth and Wilson Hoyland, he moved to long-established law firm, Taylor and Emmet on Norfolk Row. During his years at Taylor and Emmet Michael was president of the Sheffield Law Society and president of the Sheffield Chamber of Trade. He lectured in company law at the University of Sheffield and was one of the founders of the local branch of Oxfam.
On his retirement he launched the appeal to raise funds to buy the first body scanner for the Hallamshire Hospital. Working with close friend and local businessman Peter AL Wood, they eventually raised enough to buy two body scanners. In 1984 Michael Goode was awarded an honorary doctorate for his work with the School of Law at the University.
Michael was born in Doncaster. His father was colliery manager in Brodsworth near Rotherham. He went to Pocklington School and Doncaster Grammar School before joining the navy where he was a radio operator on aircraft carrier HMS Ocean during the Second World War. He became a student at the University of Sheffield immediately after the war.
He married probation officer and social work lecturer, Auriel, in 1951 and lived in Ecclesall before moving to the Hope Valley in 1978.