Shelagh Cox and J. Rodgers Cox tribute
John Rodgers Cox born 1927, died 2013. A graduate of the School of Medicine (MBChB 1954, MD 1961).
Shelagh Marjorie Cox born 1929, died 2013.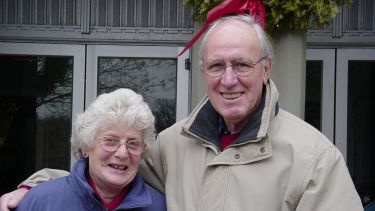 Shelagh and Rodgers were married on 22nd December 1952 and set up home in Sheffield where Rodgers was a student at the university's medical school. Once qualified they remained in Sheffield where Rodgers worked in both General Practice and then as a Consultant Geriatrician until his retirement. Shelagh worked as a nurse in various hospitals throughout the city. They retained strong links with the university throughout their lives, participating in reunions of the medical school and the cricket and athletics teams that Rodgers had been a part of during his time there. They would be pleased to know their donations will allow other students to derive as much benefit and pleasure from the university as they did.

The University of Sheffield are very grateful for the generous legacy that Shelagh and Rodgers have left in their Wills that will benefit students in Sheffield for many years to come.