Elizabeth L Knox
MSc, BA Hons, BA, PCIfA
Department of Archaeology
Research Student
Thesis- A multidisciplinary investigation into the social impact of foetal and mother mortality during the industrialisation of England
AHRC CDP PhD Studentship between the University of Sheffield and MOLA: Museum of London Archaeology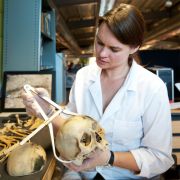 Elknox1@sheffield.ac.uk
Minalloy House
Full contact details
Elizabeth L Knox
Department of Archaeology
Minalloy House
Regent Street
Sheffield
S10 2TN

Qualifications

2020 – Present- AHRC CDP PhD Studentship in Archaeology at the University of Sheffield with institute partner MOLA; Museum of London Archaeology 
2012 – 2013- MSc Forensic Archaeology – Bournemouth University 

Dissertation- Detecting the Dead: an analysis of current geophysical surveying techniques in locating and identifying mass graves. 

2010- BA Hons (UK MA Equivalent) – The Australian National University

Thesis- The Bone Puzzle: A Skeletal and Taphonomic Analysis of Fragmentary human remains from Callao Cave Northern Luzon (1st awarded)

2005 – 2009- BA with three majors- Archaeology, Biological Anthropology, Art History (Curatorship/ Museum Studies) – The Australian National University.
2004- BA Vis in Fine Art with major in Painting – The Australian National University (Transferred)
Research interests

Thesis- A multidisciplinary investigation into the social impact of foetal and mother mortality during the industrialisation of England

My research will look at the osteological and archaeological evidence of foetal mortality during the Industrialisation period from contemporary sites across England.

I will be using burial registers, archaeological plans and GIS to understand the special distribution of foetal remains in relation to older infants and the larger population, identifying any patterns within individual burial grounds, between sites and between religious and social status groups. 

I will also be looking into documentary evidence relating to the history of Gynaecology and Obstetrics and any primary source material relating to women's health during pregnancy and foetal death at this time.

Research Interests include-

Human Osteology
Osteoarchaeology / Biological Archaeology
Medical History- Particularly from the UK Restoration through the Georgian era and into the Victorian era 
Foetal and small infant mortality
Gynaecology and obstetrics history
Post-medieval health, diet and lifestyle
UK Industrialisation 
Forensic anthropology in response to war crimes and human right violations
Reassociation of commingled and fragmentary human remains
Mortuary and Funerary Archaeology
Research group

October 2020 – Present- History of Collecting and Institutions
Grants

2020 –  2024- AHRC Collaborative Doctoral Partnership (CDP) PhD Studentship, UK
2004- Manly Museum and Art Gallery Theo Batten Youth Scholarship Award, AUS
Teaching activities

2019 – 2020- Osteology Live: HS2 education initiative

I helped write and set-up the Osteology workshop at MOLA London, which was streamed live into Primary and Secondary classrooms in Birmingham over Skype. 

2019- Senior Osteologist HS2 Birmingham

I was responsible for training and mentoring 3 new Osteologists working on the Park Street Burial ground in Birmingham. Helping them with collecting and entering osteological assessment data and diagnosis of pathological bone changes. 

2017 – 2019- Early Career Osteologist Training Programme Senior Osteologist 

I was responsible for the hiring, training, mentoring and supervising of 11 new early career osteologists for MOLA Headland Infrastructure (MHI). This involved onsite management at HS2 site St James's Gardens, Euston and lab training. 

2015 – 2019- MOLA Time Truck

A flexible interactive mobile classroom hosting STEM school workshops and public programmes on archaeology and related specialisms. I hosted the Skeleton Stories Module for students in years 3 to 6.

2018- Sessional Lecturer for Wrexham Glyndwr University London Field Trip

Teaching Osteology and Commercial Practice to Undergraduate students in the Forensic Science Degree at Wrexham Glyndwr University when they came to MOLA London. 

2017- Young Archaeologists' Club Osteology Workshop

Co-hosting and teaching budding archaeologists (primary school age), parents and guardians about Osteology and Skeletal anatomy. 

2008 – 2012- Catanauan Heritage Project Archaeological Field School Supervisor

Training and supervising undergraduate students from the Australian National University (ANU) and University of the Philippines (UP ASP), and conducting research into the complex jar burial site at Catanauan as part of the National Museum of the Philippines. 
Professional activities

2020 – Present- E L Knox Art Studio (The Knox Box)

After leaving MOLA in April 2020 the Pandemic hit and life was turned upside down. I decided it was time to try and sell my artwork more professionally and find an Art studio/ office space to get me out of the house in a safe one person space to run my business and now take on this PhD.

2013 – Present- Kenyon International Emergency Services

Team member with active deployment in Personal effects processing during 2018. 

2019 – A14 Environmental Specialists Assessment Seminar, Cambridge

​​​​​​​Presentation of Niamh Carty and my initial Human Bone Assessment data from sites along the A14 Road scheme. 

2019- HS2 South onsite Media campaign

​​​​​​​Photographs, video and audio recorded of myself and colleague during the excavation of Captain Matthew Flinders at St James's Garden, Euston. 

2015 – 2019- MOLA Charity Partner Historic London Treasure Hunt

​​​​​​​Organiser of the questions and maps for the walking quiz and prizes for the winners. 

2018- 'The Team of Tomorrow' Meet MOLA and Keltbray's archaeology and construction specialists

​​​​​​​A Professional Photoshoot for the House of Lords future of Commercial Archaeology and Construction event 

2018- Ask an Archaeologist Podcast Interview 

Archaeologist and Comedian Paul Duncan McGarrity interviews me on all thing's bones. 

2018- Birmingham Open House 

I Co-hosted the MOLA Headland Infrastructure (MHI) public Engagement workshop for Highlighting the Archaeological and Osteological works being conducted by MHI as part of HS2 North.

2016- Channel 9 News Australia Interview

​​​​​​​Interviewed by the European correspondents for Channel Nine Network News Australia on the archaeological excavations and Human remains recovered from the Crossrail excavations at the New Churchyard Burial Ground. 

2016- London Open House

​​​​​​​Crossrail Bishopsgate Ticket Hall Archaeology stand inside the tunnels for Crossrail Archaeology. 

2015- Crossrail Archaeology Lunchtime Viewing Gallery Talks

​​​​​​​​​​​​​​Presenting to the public inside the viewing gallery of the Crossrail New Churchyard excavation at the Bishopsgate Ticket Hall.

Certifications

DBS Enhanced Certificate

CSCS (PQP) card – exp 2023

Confined Spaces Emergency Entry with Escape sets – exp 2021

First Aid at Work – exp 2021
Publications

Books and Peer Reviewed Publications 

Knox, E. L. and Telford, A. (forthcoming). Under the Roof and the Shadow of a Noble Church: archaeological investigation at St George's, Brentford, 2014-2017, London: Museum of London Archaeology publishing, Allen Archaeology Study series. 

Spyrou, M. A. Keller, M. […] Knox, L. E. et al. 2019, Phylogeography of the second plague pandemic revealed through analysis of historical Yersinia pestis genomes. Nature Communications 10, 4470

Hartle, R, Carty, N, Henderson, M, Knox, E, L and Walker, D. 2017, The New Churchyard: From Moorfields Marsh to Bethlem Burial Ground, Brokers Row and Liverpool Street. Crossrail Archaeology Study Series.

Grey Literature

Carty, N. Henderson, M. Knox, E. L. and Walker, D. 2020 Analysis report on Human Bone from St Thomas's Hospital, Southwark (LBC95 & LDG14), HUM/REP/01/20

Knox, E. L. 2019 A Note on the Disarticulated Human Bone excavated at St. Ethelburga's Church, 100 Bishopsgate, London, EC3, (BJG10), HUM/ASS/01/19

Carty, N. and Knox, E. L. 2019 Assessment of Human Remains from A14 Cambridge to Huntingdon, Cambridgeshire, Highways England's A14 Road Scheme, HUM/ASS/02/19

Knox, E. L. 2019, A Note on the Disarticulated Human Bone excavated at Guildhall Yard during the installation of security bollards, London, EC2V, (GUY17), HUM/ASS/03/19

Knox, E. L. 2017 Addendum to the Assessment of the Human Bone excavated at St George's Church 367-368 High Street Brentford, London Borough of Hounslow, (HHS14), HUM/ASS/06/15

Knox, E. L. 2017 Assessment of Cremated Human Bone from Wood Burcote Court Towcester, Northamptonshire (TOWWBC16), HUM/ASS/01/17

Knox, E. L. 2017 Assessment of Human Bone from the Maggie's Centre, St Bartholomew's Hospital, London, EC1A, (BAH15), HUM/ASS/02/17

Knox, E. L. 2017 Analysis Report on the Human Bone from the Fruit and Wool Exchange, 54 Brushfield Street, London, E1 (BRU15), HUM/REP/03/17

Knox, E. L. 2016 Assessment of Human Bone from St Bartholomew's Hospital, London, EC1A, (SBQ14), HUM/ASS/02/16

Knox, E. L. 2016 Assessment of Human Bone from the Fruit and Wool Exchange, 54 Brushfield Street, London, E1 (BRU15), HUM/ASS/04/16

Knox, E. L. 2016 A Note on the Disarticulated Human Bone excavated at London Wall Place, London, EC2, (AHC07), HUM/ASS/05/16

Knox, E. L. 2016 A Note on the Disarticulated Human Bone recovered from Garlick Hill, London, EC4, (GLK13), HUM/ASS/06/16

Carty, N. Henderson, M. Knox, E. L. and Walker, D. 2016 Analysis Report on the Human Bone from the New Churchyard: Crossrail Broadgate Ticket Hall, London, (XSM10), HUM/REP/04/16

Knox, E. L. 2015 A Note on the Disarticulated Human Bone excavated at Plumtree Court, London, EC4A, (PUM14), HUM/ASS/03/15

Carty, N. Henderson, M. Knox, E. L. and Walker, D. 2015 Assessment of Human Bone from the Broadgate Ticket Hall, London, (XSM10), HUM/REP/09/15

Knox, E. L. 2015 Human Osteology collection catalogue from the Royal Academy of Arts, Burlington House, Piccadilly, London, W1J 0BD, MOLA Osteo Report 30092015