Sheffield's interdisciplinary approach to landscape archaeology combines perspectives and methods from biological and environmental sciences, ethnography, geography, geomatics, heritage studies and history.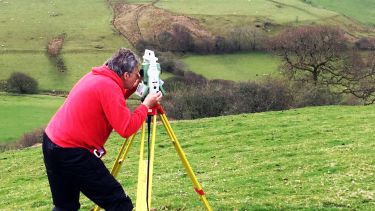 Off
The department conducts research in many parts of the world and with a large number of collaborators, including in the UK, Greece, Italy, France, Russia, Spain, South Africa and Turkey.
The department's projects reflect the long timescales that landscape affords, ranging from early hominin caves in South Africa through to studies of contemporary environmental protest camps in the UK.
Our research places an especially strong emphasis on the ways the past actively shapes contemporary communities and their landscapes. We offer world-leading masters courses in landscape, environmental archaeology and cultural heritage, and we have a vibrant doctoral research community.
---
Our approach to landscape archaeology
Al Oswald of the Department of Archaeology at the University of Sheffield discusses Sheffield's approach to landscape archaeology whilst working with undergraduate and Lifelong Learning students at a World War One training area at Redmires.
---
Current and recent research projects
Sheffield Library of Aerial Photography Digitisation Project

Sheffield, funded by the Robert Kiln Trust

The Sheffield Library of Aerial Photography (SLAP) is an extensive archive of aerial photographs, primarily dating to the 2nd half of the 20th century. The collection is primarily made up of photographs taken by Derrick Riley and Arnold Baker.

Find out more information here.

Vinca Archaeological Metals Project

Serbia, funded by Wenner-Gren

A collaboration between the universities of Sheffield, Cardiff and Pittsburgh. This landscape project combines topographic surveying, geophysical, geochemical analyses with targeted excavation to establish environmental relations of Middle Neolithic Vinca settlements and, in turn, the context of earliest metallurgy in Europe.

MEMOLA - Mediterranean Mountainous Landscapes

EU FP7 Research Network

Involving the universities of Sheffield, Granada, Padua and Palermo, this network project seeks to characterise and revitalise the agricultural landscapes of southern Spain, Sicily, Albania, northern Italy.

South African Palaeocave Survey

GIS approaches to early hominid site location and palaeocave landscapes in South Africa.

Thornton Abbey excavation

Running since 2011, this project aims to complete the topographical and geophysical survey around the Abbey and conduct targeted excavation of the medieval and early modern features. In doing so the project aims to comprehensively characterise for the first time the three main later phases of activity on site.

Viking Torksey

The aim of the Viking Torksey project is to understand the role and significance of Torksey by plotting the chronological and spatial development of the various centres of activity, which have been tentatively identified through metal detecting.

Newark Civil War Project

New accordion content The Newark Civil War Project is a long term collaborative venture by the University of Sheffield and the newly established National Civil War Centre at Newark. It aims to comprehensively review the 17th-century siegeworks surrounding Newark-on-Trent, Nottinghamshire.

Ethnoarchaeology of pig husbandry in Sardinia and Corsica

Funded by AHRC and British Academy

The aim of this project is to study surviving traditional systems of pig keeping in Sardinia and Corsica, which can help our understanding of the archaeological evidence for pig domestication and husbandry.

Sinop Kale, Turkey, Dr Jane Rempel and Dr Sue Sherratt

This project builds on more than a decade of survey and environmental research conducted by the Sinop Regional Archaeological Project and its aim is to investigate the nature of pre-Greek settlement as well as the early Greek settlement and its later development.
Researchers
Landscape archaeology research staff
Flagship institutes
The University's four flagship institutes bring together our key strengths to tackle global issues, turning interdisciplinary and translational research into real-world solutions.