Mediterranean archaeology
At Sheffield we have a long and distinguished history, spanning several decades, of archaeological research focusing on the Mediterranean.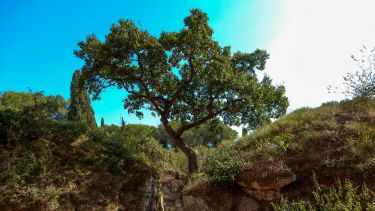 A wide variety of prominent Sheffield researchers are actively engaged in research in the Mediterranean and neighbouring regions, incorporating a variety of archaeological techniques and sub-disciplines. Members of academic staff also are involved in a number of fieldwork projects in the region.
---
Current and recent research projects
The Medieval and Ancient Research Centre at the University of Sheffield (MARCUS)

MARCUS brings together a concentration of research and teaching expertise that is unique within the UK. Ranging from archaic Greece to Renaissance Europe, MARCUS represents an array of disciplines, from history to biblical studies, from philosophy to languages, and from archaeology to music. MARCUS co-ordinates a regular seminar series and organises other events, both for specialists and for the interested public.

The Medieval and Ancient Research Centre at the University of Sheffield (MARCUS) website

Sheffield Centre for Aegean Archaeology

The concentration of Aegean research at Sheffield led to the University's support for the establishment in 1995 of the Sheffield Centre for Aegean Archaeology and in January 2004 of a Chair in Aegean Archaeology. The centre remains dedicated to providing an interdisciplinary environment for research in to all aspects of the archaeology of the Aegean.

Sinop Kale Excavations

This project builds on more than a decade of survey and environmental research conducted by the Sinop Regional Archaeological Project and its aim is to investigate the nature of pre-Greek settlement as well as the early Greek settlement and its later development.

Roman Imperial Estate at Vagnari

This archaeological project, directed by Maureen Carroll, has the in-depth exploration of the agricultural and industrial vicus at Puglia as its focus.

Mediterranean Mountainous Landscapes (MEMOLA)

An FP7 project with the core objective of investigating the logic that rules the process of historical landscapes formation in relation to natural resources within a diachronic framework.

Archaeological Atlas Project

A web-orientated archaeological mapping and research project, founded by the late Prof. Andrew Sherratt.
Researchers
Mediterranean archaeology research staff

Umberto's main work in the Mediterranean concerns the ethnoarchaeological study of traditional pastoral societies. He is also interested in domestication and husbandry developments, as well as in ritual practices involving animal and meat offerings.

Gianna's work has focussed on Mediterranean landscape archaeology and geoarchaeological analysis in order to answer important questions about human history. Gianna co-directs the Unexplored Knossos: Gypsades Excavation Project in Crete.

John's research focusses on Late Bronze Age Crete and mainland Greece, on Linear B, and on historical Greece; his work often explicitly integrates material and textual evidence. John is on a five- year secondment at the British School at Athens.

Maureen is a Romanist with research interests in funerary practices and commemoration, infancy and childhood, and clothing and identity. She directs excavations at the Roman imperial estate at Vagnari in south-east Italy.

Chiara's research is concentrated on the development of husbandry techniques, human-bird relationship, and the use of animals in ritual activities, as well as the association of them with social status, in Roman and Medieval Italy.

Peter's research interests focus on material-culture studies and ceramic technology, particularly in the Aegean.

Paul Halstead's research focusses on (1) the archaeology of food production and consumption, and their social context, in later prehistoric (Neolithic-Bronze Age) Greece; and (2) the ethnoarchaeology/oral history of 'traditional' pre-mechanised farming, herding, and foodways in Greece and the west Mediterranean.

Caroline has conducted research on glasses from a variety of sites around the Mediterranean, from Egypt to Slovenia and from the late Bronze Age to the post-medieval period, to explore provenance and trade in glass within different cultures.

Jane's research interests centre on Greek archaeology, specifically issues surrounding colonisation and social interaction at the margins of the ancient Greek world.

John has used both excavation and landscape survey to explore the transition from the Roman Empire to the early Middle Ages in central Italy.

Susan's research interests are in the Bronze and Early Iron Ages of the Aegean, Cyprus and the wider eastern Mediterranean, particularly in all aspects of trade and interaction within and beyond these regions.

Marta's work focuses on Bronze Age pottery and production technology. She currently is developing the project 'Transport jars and commodity exchange in the Late Bronze Age Argolid: Tiryns and Midea'.
Related books recently published by staff
Recent publications

U. Albarella and A. Trentacoste (eds.) 2011 Ethnozooarchaeology. The present and past of human-animal relationships. Oxford: Oxbow
M. Carroll and E.-J. Graham (eds.) 2014 Infant Health and Death in Roman Italy and Beyond. Portsmouth, R.I.: Journal of Roman Archaeology (Supplementary Vol. 96)
M. Carroll and J. Rempel (eds.) 2011 Living through the Dead. Burial and Commemoration in the Classical World. Oxford: Oxbow
P. Halstead 2014 Two Oxen Ahead: Pre-Mechanized Farming in the Mediterranean. Oxford: Wiley Blackwell
S. Sherratt, T.C. Wilkinson, and J. Bennet (eds.) 2011 Interweaving Worlds: Systemic Interactions in Eurasia, 7th to 1st Millennia BC. Oxford: Oxbow
Flagship institutes
The University's four flagship institutes bring together our key strengths to tackle global issues, turning interdisciplinary and translational research into real-world solutions.