Dr Emma Cheatle
BA (Hons), DipArch, PhD
Senior Lecturer Architecture
Department Director of One University
Director of Humanities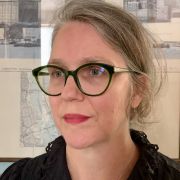 Profile

Trained as an architect in the UK, I have a PhD in architectural design and theory from the Bartlett, University College London, supervised by Prof Jane Rendell and Dr Penelope Haralambidou. My PhD received the 2014 RIBA President's Award for Outstanding PhD Thesis. My research was published as the monograph, Part-Architecture: The Maison de Verre, Duchamp, Domesticity and Desire in 1930s Paris (2017) (4* rated (REF2021)).

My research is interdisciplinary and aims to examine the political, cultural and social implications of architecture, art and urban space. I am particularly interested in addressing issues of inequality, whether through gender, race or disability. Methodologically, I use innovative, interdisciplinary forms of history/theory and new forms of creative-critical writing which activate the personal and political in architectural writing. With my MA taught modules Critical Spatial Theory and Tools and Methods in Urban Design as springboards, I am working on a handbook that places the ethnographic and theoretical methods of walking, feminism, mapping, expanded fields, and writing as central to critical thinking about space.

My current research addresses questions around health, feminism, decoloniality, common rights, gendered practices, memory, domesticity and the politics of space in architecture and urban planning. My current main research is for the monograph Lying in the Dark Room: Architectures of Maternity which examines the role of architecture and space in historic and contemporary constructions of the maternal body and maternity practices. I am part of the AHRC major project Wastes and Strays where I am researching a history of common urban land through walking as a common right. This examines disability, bodily health, privilege, gender, and race as a set of un/common local climates and ecologies.

I am also part of several feminist projects within and without Sheffield School of Architecture including The Feminist School of Architecture (an activist collective based at the Sheffield School of Architecture that promotes intersectional and collaborative feminist tactics in architectural education through teach-outs, symposia, workshops and support networks); The Sheffield School of Architecture Feminist Library (an archive of feminist activities, events and publications by students and staff over the last twenty years); and, in collaboration with Hélène Frichot, University of Melbourne, a major retrospective on the feminist theorist Jennifer Bloomer for the Journal of Architecture. I am an active member of the Equality, Diversity and Inclusivity committee and the Athena Swan team, and UK Editor for the Bloomsbury Global Encyclopaedia of Women in Architecture 1960–2015 (2021).
Research interests

Interests:

My research interests are interdisciplinary between architecture, literature and creative practice and fall into three areas:

Rethinking the history of health and maternity architecture, and understanding how contemporary spaces of health – from hospitals to urban spaces – can change or shape our experience of ill or good health (see (2017) Part-Architecture: The Maison de Verre, Duchamp, Domesticity and Desire in 1930s Paris. Routledge; (2019) 'As/saying architecture: a ficto-spatial essay of lying-in'. TEXT: Writing | Architecture, 23(55); forthcoming (2022) Lying-in the Dark Room: The Architecture of Maternity).
Histories of urban common land, particularly from the position of spatial understandings and narratives of health, inequality and gender.
Feminist and de-colonial ethnographic theory, practice and pedagogy (see forthcoming Special issue of the Journal of Architecture on Jennifer Bloomer (2022); Part-Architecture: The Maison de Verre, Duchamp, Domesticity and Desire in 1930s Paris. Routledge (2017); 'Between Landscape and Confinement: Situating the Writings of Mary Wollstonecraft' In Frichot H, Gabrielsson C & Runting H (Ed.), Architecture and Feminisms Ecologies, Economies, Technologies Routledge (2017)).

I pursue much of the above work through inventive forms of spatial writing or creative-critical architecture writing (see 'Writing walking: ficto-critical routes through eighteenth-century London' In Frichot H & Stead N (Ed.), Writing Architecture: Ficto-Critical Approaches to a Writing Architecture Bloomsbury (2020); 'Absent Comforts – Walls, Windows, Doors, Holes' In Kennedy M (Ed.), The Enchanted Interior (pp. 59-79). Laing Gallery (2019)). My work aims to activate forms of architecture writing that use both personal and theoretical responses to buildings and urban spaces to critically explore the role they play in our lives.

Projects:

AHRC Project: "Wastes and Strays: the past, present and future of English urban common land" – with Alessandro Zambelli, University of Portsmouth, Rachel Hammersley, Newcastle University, Chris Rodgers, Newcastle University and John Wedgwood Clark, University of Exeter

Architectural Health Humanities Group – with Luis Hernan, University of Sheffield, Carolina Ramirez-Figueroa, RCA

'Senses and Health/care Environments' Network: Exploring interdisciplinary and international opportunities', Funded by Wellcome Trust – with Victoria Bates, University of Bristol, Clare Hickman, Newcastle University, Marie Allitt, University of Oxford, Agnes Arnold-Forster, University of Roehampton, and Harriet Barratt, University of York

Spatial Writing Group – with Luis Hernan, University of Sheffield

PhD supervision areas:

Creative-critical spatial theory and practice and writing
Feminist and de-colonial theory, practice and pedagogy
Urban common land
Histories of health and maternity architecture; critical and creative spatial analyses of health in communities and buildings
Critical analyses of eighteenth-century – modernist art and architecture
Interdisciplinary topics between art, architecture, spatial design, science, health and literature.
Publications

Books

Journal articles

Chapters
Research group
Grants

2019–2022

AHRC Major Award (£850,000) Wastes and Strays: Wastes and Strays: The Past, Present and Future of Urban Common Land [Co-I]
Teaching activities

My teaching covers theory and design. I am MA Urban Design co-leader and teach modules on Methods and Skills in Urban Design and the Urban Design Thesis Dissertation.

I run the postgraduate theory module Critical Spatial Theory.

I regularly supervise Masters Dissertations in the MArch and in the MA programmes. I supervise undergraduate dissertations with particular interest in critical creative practices, walking as practice and theory, and art and spatial practices. I teach on the Y1 Humanities course.

As director of PhD by Design I contribute the doctoral training programme on design practices in doctoral research.
Professional activities

Department Director of One University
Head of External Relations (2019–2022)
Leader of PhD by Design (2018–2022)
Programme Co-Leader MAUD (2020–2022)
Programme Co-Leader MAAD (2018–20)
AHRC Major Award Research Co-Investigator 2019–2022
Post-doctoral Research Fellow Newcastle University 2015–18