Thinking about starting your undergraduate course with the School of Architecture? Here's everything you need to know about your fees and costs.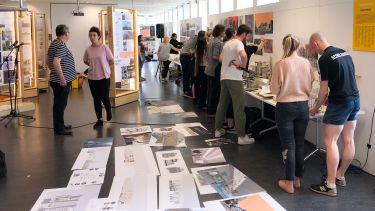 Undergraduate tuition fees
Everything you need to know about undergraduate tuition fees is published on the main University of Sheffield website.
Undergraduate loans are available
Student funding calculator
Give us a few details and we'll calculate how much money you could get towards your study and living costs, or suggest funding that you may be eligible for.
University scholarships
There are university-wide scholarships available, as well as external funding.
---
Additional costs
Architecture undergraduate students can expect to incur some additional costs as part of their course, however, the School aims to minimise these where possible. We provide all undergraduate students with an annual allowance which is designed to help offset some of the costs for materials, printing, site visits and field trips. It is up to the individual student to manage this allowance and budget accordingly.
We have outlined some anticipated costs and also some resources architecture students have access to as part of their tuition fees.
Books
There are no compulsory textbooks you will need to purchase.
Each course will provide a recommended reading list to students. It is not expected that you will read every book over the course of the year, but you are encouraged to read as widely as possible to inform your project work, and to gain a greater understanding of your field.
The University Library has an extensive architecture collection, including access to journals, which is available to all students to support them in their studies. Key chapters will be provided to students.
Non-residential field trips
Undergraduate students will undertake a number of site visits throughout their studies. Whilst students cover the travel expenses, we often use more local sites to minimise costs and the annual contribution is designed to make them more manageable.
Residential field trips
Students have the opportunity to take part in residential field trips in years 1-3.
Year 1: Travel and accommodation for one compulsory trip are covered by the School.
Year 2: Optional field trip which takes place outside of term time and is paid for by students who choose to take part.
Year 3: Travel and accommodation for one compulsory trip are covered by the School.
Students may take part in other trips during each year and some choose to stay overnight during site visits.
Facilities
As an architecture student, you will have full access to the facilities in our design studios, print unit, IT suite, workshop and media unit.
Drawing tables, chairs, stools, drawers and lockers are provided in the studio.
Equipment
We can provide applicants with guidance on the equipment recommended for students of architecture. You would not need to buy any of these items before you arrive in Sheffield, however, you will need basic drawing equipment from the beginning.
Information Technology
Our departmental desktop computers are high spec and are loaded with the latest software, so it is not essential that you buy a high spec laptop if you don't yet have one, but it will help.
The University system is PC based, so a PC ensures compatibility, although many students do use Macs. A lot of the software needed is available at a lower cost or for free from the University – it is better to wait until you start the course when you can talk to the tutors, technical staff and students about the appropriate software.
Materials
During the course of the year, we anticipate that you will need cardboard, a range of papers, glues, spray mount, balsa-wood, spray paints and similar craft materials. We would advise you to wait and see what is best to suit your needs and budget. All students work differently so costs incurred depend on the approach they take to the brief given.
We very much encourage students to use recycled materials in their models and presentations – not only is it sustainable, but also cost-effective and potentially innovative. We also advise students to work in teams or groups to acquire waste or unwanted materials from local companies.
Our print unit and workshop offer a range of printing and model making materials at a significantly lower cost compared to external suppliers.
Other fees
Explore the University
Discover why Sheffield is the right choice for you at one of our open days or events.