Bateson Away Day Symposium – 20th April 2022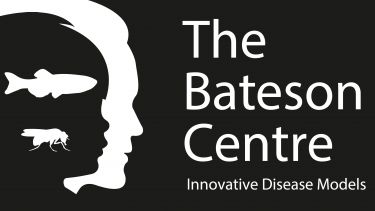 The Bateson Centre Away Day will be held on Wednesday 20th April from 1pm to 4:30pm in LT2 at the Medical School. The program will include talks from PIs and Early Career Researchers from across the Centre – and will be a great opportunity to hear about some of the breadth of research taking place in the Bateson. An outline of the program can be found below, and there are still a few days to register for the event (so we know how much cake and coffee to provide!) at the following link.
1.15 PM Introduction (Steve Renshaw and Emily Noel on behalf of the Core Management Committee)
1.30 PM Noemie Hamilton
1.45 PM Ryan West
2.00 PM Raquel Martins
2.15 PM Phil Elks
2.30 PM Heba Ismail
2.45 PM Freek van Eeden
3.00-3:30 PM Coffee and Cake
3.30-4 PM Student/RA Flash Talks (Chair: Catarina Henriques)
Featuring Mahrukh Shameem, Nagham Dous, Holly Rutherford, Elliot Brooks, Stuart Gaines, Eric Pollitt)
4.00 PM Community Session (Led by Catarina Henriques-Kahoot live feedback)
Contact us
The Bateson Centre
Firth Court
The University of Sheffield
Western Bank
Sheffield S10 2TN
Tel: +44 114 222 2334
Events at the University
Browse upcoming public lectures, exhibitions, family events, concerts, shows and festivals across the University.