The Bateson Centre is a vibrant partnership between basic and clinician scientists at the University of Sheffield, and is the world's foremost Centre dedicated to the use of innovative models for understanding human disease.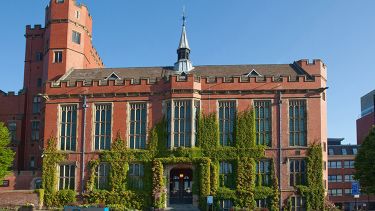 We are passionate about understanding the biology that underpins human disease and using our expertise in model systems to "discover and understand" how diseases start, progress and respond to treatment. Our models allow us to test hypotheses (research questions) leading to new knowledge, and allow us to screen for drugs modifying aspects of disease with important implications for patients.
The centre is directed by Professor Stephen Renshaw, a successful clinician scientist and Professor of Medicine, building on the outstanding achievements of the MRC Centre for Developmental and Biomedical Genetics (2007-2015).
Innovative models of disease
The Bateson Centre is an interdisciplinary grouping of scientists using zebrafish and other innovative models to understand human disease.
We are united by shared animal models and shared approaches, including in vivo imaging and genetics – particularly genome editing and transgenesis.
We work to address three main groups of diseases – congenital disorders, infections and diseases of ageing.
We also aim to use phenotypic drug discovery programmes to discover new treatments.
Many diseases are still poorly understood. In order to be able to offer better treatments to our patients, we require new models that allow us to study rapid changes in dynamic systems in vivo, to manipulate these systems genetically and to test drugs. Zebrafish models are a distinctive research strength of Sheffield and have an important place alongside traditional rodent models. In many cases, major advances in understanding have been made in animal models such as chick, fruit fly or amoeba, or with cellular models based on induced pluripotent stem cells or in silico systems. We have expertise in all these areas, as well as engaged clinicians to help align models and clinical patterns of disease.  
Multidisciplinarity
The Bateson Centre works at a multidisciplinary area of strength, built on whole organism physiology and in vivo imaging requiring expertise in cell biology, stem cell biology, developmental biology, imaging and mathematical modelling together with translational biomedicine.
We work across faculty and departmental boundaries to drive innovation and exploit synergies at the interfaces between disciplines.
Our work is of direct importance to understanding both healthy ageing and diseases of ageing. In particular, environmental and cellular stresses contribute to decline in regenerative capacity with age.
These stresses include external factors such as infection and environmental stressors, and internal responses such as inflammation and altered endocrine function.
Contact us
The Bateson Centre
Firth Court
The University of Sheffield
Western Bank
Sheffield S10 2TN
Tel: +44 114 222 2334
A world top-100 university
We're a world top-100 university renowned for the excellence, impact and distinctiveness of our research-led learning and teaching.