Sheffield 3Rs Symposium 2020 - Poster Prizes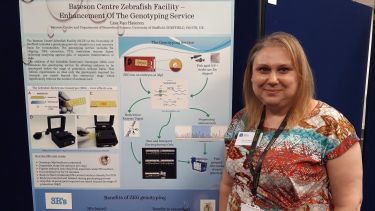 Lisa's poster (right), "Bateson Centre Zebrafish Facility - Enhancement Of The Genotyping Service", won the prize in the category of "Exploring different ways of advancing the 3Rs". 
It shows the enhancement of the genotyping service with the new Zebrafish Embryonic Genotyper (ZEG) allowing for embryos to be genotyped prior to protection without harm and raising only the required genotype(s) of fish. This will have a huge impact on animal numbers being raised (half or a quarter of fish may be raised) as well as a refinement of animal procedures. 2 out of 3 on the 3R's was obviously a big hit in enabling Lisa to win the prize!
Stella won the prize for Innovations in Experimental Research for her poster "Elucidating the role of cell wall composition and hyphal switch in the host-pathogen interactions of Candida albicans".
Stella's poster was quite academic as her project is not funded by the NC3Rs, mostly highlighting the aims and the current findings of her project. In her presentation she talked about how Candida albicans is a fungal pathogen whose pathogenicity is traditionally studied in mice. Stella's project however uses zebrafish as an infection model, due to its transparency and how much easier it is to create genetic modifications.
She uses under 5-days post fertilisation zebrafish as an infection model however she is attempting to reduce even further the amount of zebrafish used by studying key concepts in vitro using simple or even more complex cell cultures and validating the findings in vivo.
The 3Rs in Stella's project are the Replacement of mice which are traditionally used for Candida albicans host-pathogen interaction research with under 5-days post fertilisation zebrafish and the Reduction of zebrafish used because she uses zebrafish for validation of concepts and mostly uses in vitro cell assays for her experiments. 
Flagship institutes
The University's four flagship institutes bring together our key strengths to tackle global issues, turning interdisciplinary and translational research into real-world solutions.