Protein engineering with China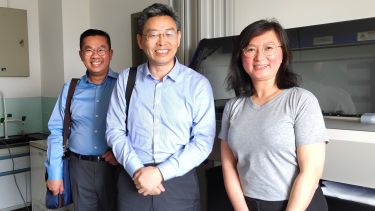 Researchers have developed a new 'bacterial extracellular protein secretion system' (BENNY).  The BENNY system will benefit the entire protein engineering community by significantly reducing the resources required (time, cost and labour) to improve the performance of a biocatalyst to suit industrial applications.
BENNY will allow engineers to streamline the directed evolution workflow; directed evolution is a method used in protein engineering that mimics the process of natural selection to steer proteins or nucleic acids toward a user-defined goal, it is one of the most widely used approaches in protein engineering.
---
Enzyme producers will find this new system attractive from enzyme engineering, enzyme production and enzyme processing."

Dr Tuck Seng Wong

Department of Chemical and Biological Engineering
---
The project was funded by the Open Project, awarded by the State Key Laboratory of Bioreactor Engineering in China. The work was published in Bioresources and Bioprocessing (BIOB), and was selected by the Editor as the June featured article of BIOB.
The research team is led by Dr Tuck Seng Wong and Dr Kang Lan Tee who have collaborated with Professor Jian-he Xu at ECUST.  
"This achievement will lead to more exciting applications in protein engineering, enzyme production and downstream processing. ECUST is a strategic partner of Sheffield and I look forward to further strengthening this partnership", says Dr. Tuck Seng Wong.
Flagship institutes
The University's four flagship institutes bring together our key strengths to tackle global issues, turning interdisciplinary and translational research into real-world solutions.