Working with a multinational team in the heart of Europe

Mengyuan Qian
Undergraduate study
MChem Chemistry with Study in Industry
Mengyuan came from China to study Chemistry in Sheffield, and spent a year of her degree working for a chemical manufacturer in Belgium.
I spent a year working at Huntsman Corporation in Belgium, a country known as the heart of Europe. Huntsman is based just outside its capital city, Brussels. The company is a global manufacturer and marketer of differentiated chemicals and it manufactures products for a variety of global industries, including areas like adhesives, coatings, elastomers, composite wood products, automotive and footwear.
I worked in the Computational Physics and Foam Technology Team in the Global Research department as a placement student. In my project, a variety of interesting additives were incorporated into polyurethane foam formulations in an attempt to synthesise hybrid additive/polyurethane foams with new properties.
---
I had a chance to gain in-depth understanding about polyurethane chemistry and perform foam synthesis and characterisation in my industry year.

Mengyuan Qian

Chemistry with Study in Industry MChem
---
Although I was working as a student, I had opportunities to attend company events, including annual commercial talks discussing the strategy and future of Huntsman. I could also enjoy all the benefits (gym, shop and cinema discounts, company activities such as ice skating) of a full-time employee. The team had a Christmas meal and team bonding events, and the company always organised celebrations of traditional festivals throughout the year, with gifts for everyone.
I had a fantastic time working in a multinational team. Beside Belgians, we also had a few other nationalities like Chinese, French, Italian, British, Germany, Australian, Turkish, Spanish and Indian. All of my colleagues were great, so I could very easily approach someone when I need help.
My industry supervisor was responsible and patient – he took care of my project from experiments to report writing and presentation skills, and he made sure my life in Belgium was alright by helping me settle in. And being in the centre of Europe, I had the chance to travel around very easily – I went to 13 European countries and more than 34 cities during my year in Belgium. Life is fantastic there.
Experiencing how a real industry works gave me an insight into working life, not only work as a student, and how a company works and cooperates across all departments. Doing a complete project on my own taught me what a research job looks like, which gave me the idea that I want to become a research chemist in the near future. Also, the style of work in Huntsman was really similar to my final year of university. The time management skills and resilience I learnt from industry life really helped me adapt to my final year well.
---
As a very mobile international student, I studied in Singapore for GCSEs and A Levels for four years before I came to the UK for university. I enjoyed working and studying in a new country, so I decided to do my placement year in another new country.

Mengyuan Qian

Chemistry with Study in Industry MChem
---
The international experiences enabled me to explore new cultures and make friends with people from different parts of the world, which is really fun, and I now have friends from all over the world. Although my English language level was not good, which made me a bit isolated from the locals, with time and practice my language skills have improved a lot over the years.
With eight years' experience abroad, I hope that my Sheffield education and Belgium work experience can give me at least a little bit of an advantage in looking for a job in Europe, as I have really enjoyed my time here.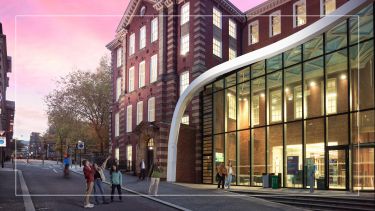 Visit us
Discover what sets Sheffield apart at our undergraduate open days on the Saturday 21 October or Saturday 18 November.