How I'm helping embed sustainability at a major chemical company

Sarah Davidson
Group Sustainability Coordinator, Croda
Chemistry with a Year in Industry MChem
Sarah works at Croda, a speciality chemicals company that produces ingredients to go into products used by people every day, such as cosmetics, medicines and lubricants.
What are you doing now and how did you get into that role? 
I currently work for Croda, which is  a speciality chemicals company. Croda creates, makes, and sells specialty chemicals that are used by some of the most successful brands in the world. Their ingredients go into products used by people every day with some examples including cosmetics, medicines, and lubricants.
I joined Croda via their technical graduate scheme, which gave me the opportunity to spend nine months on three different placements within the organisation including both commercial and technical roles. This was perfect for me because I wasn't sure which kind of role I wanted to pursue after graduating. In addition, the graduate programme also offers graduates with access to additional training and support.
After completing the graduate scheme, I secured a full-time role with Croda as Group Sustainability Coordinator for the Global Research &Technology department. In this role, my main aim is to embed sustainability into the research and development process to ensure that every new product we make has sustainability at the heart. Be this in the way raw materials are used, the way the product is manufactured, or effects that the product delivers.
What did you do for your fourth year project?
For my fourth-year project, I worked in Dr Oleksandr Mykhaylyk and Professor Anthony  Ryan's group looking at flow-induced crystallisation of polymers. I really enjoyed this project and spending time with the other students in the group. 
What scientific skills did you develop during your course?
Throughout my degree I gained lots of chemistry knowledge and laboratory experience. I still utilise the technical knowledge I gained at university on a daily basis in my current role.
What transferable skills did you develop during your course/ placement? (30)
Time management skills! At university you have to juggle a social life, lectures, lab reports, and tutorials. This meant that developing the ability to manage my own time was essential. 
What do you miss most about Sheffield? 
Nothing – because I live here now! I loved my time in the city, as a student, and even more so now. It has a great mix of bars, pubs and restaurants, and loads of independent shops too. It is also so close to the Peak District National Park, which is something I really enjoyed, especially during the Covid-19 pandemic. A lot of students seem to stay in Sheffield after graduating, which gives you an indication of just how good it is!
What would you say to a prospective student currently thinking about choosing the course? 
I'll be honest, doing a chemistry degree is challenging. However, for me, that was one of the most rewarding things about it. The course will allow you to develop a number of transferable skills that will help you when you leave university. Regardless of whether you pursue a career in chemistry, the knowledge gained by students on the course will stand you in good stead for your future endeavours. Additionally, completing a year in industry provides students to gain further skills and training, which will help set you apart from the competition once you graduate!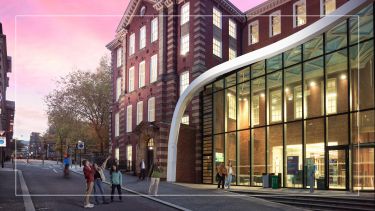 Visit us
Discover what sets Sheffield apart at our undergraduate open days on the Saturday 21 October or Saturday 18 November.