Through the Made Together programme we work in collaboration with regional partners to make South Yorkshire healthier, greener, more vibrant and innovative for all.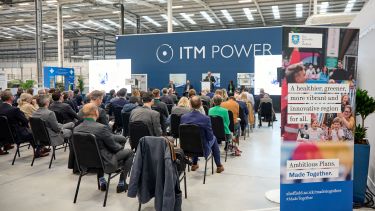 Off
We recognise that lasting change does not happen overnight. Made Together is about working with partners to build on our achievements so far and help realise more of the lasting changes that the region needs. 
We recognise the incredible contribution of all the partners who make Made Together possible. 
---
The Sheffield College
Together, we can ensure that our wonderful city inspires even more people to study and go further and higher in their careers, develops and retains talent, and is a place where more employers want to invest.

Angela Foulkes, Chief Executive and Principal, The Sheffield College
Doncaster Chamber of Commerce
Doncaster Chamber is delighted to support the Made Together programme. This programme will play a significant role in developing skills pathways in Doncaster around sustainability and innovation. It is a great complement to the work we already do to help make Doncaster a great place to work and live.

Dan Fell Chief Executive Officer, Doncaster Chamber of Commerce
---
Confederation of British Industries
The opportunities available to shape our region for the better can only be solved by stakeholders working in partnership. The CBI (Yorkshire and Humber region) is delighted to support the Made Together programme, which illustrates how partnerships can improve prospects for those living or working in South Yorkshire.

Beckie Hart, Regional Director, Confederation of British Industries (CBI) Yorkshire & the Humber
Sheffield Chamber of Commerce
Business is done better together. This is a mantra we strongly believe in at Sheffield Chamber of Commerce. By working with partners such as the University of Sheffield, we can achieve way more if we collaborate and better our region both economically and socially.

Alexis Krachai, Executive Director, Sheffield Chamber of Commerce
---
Doncaster & Bassetlaw Teaching Hospitals NHS Foundation Trust
Made Together builds on our close working partnership training our current and future clinical workforce. It will also help us focus on our joint clinical research strategy which will increase the clinical research and innovation in Doncaster and Bassetlaw benefiting communities and businesses.

Dr Alasdair Strachan, Director of Education and Research, Doncaster & Bassetlaw Teaching Hospitals NHS Foundation Trust
Sheffield Teaching Hospitals NHS Foundation Trust
We have a long-established close working relationship in training the healthcare workforce of the future and in research and innovations that lead to future treatments. Made Together is an exciting new chapter that can make the region a better place in many ways. We look forward to working together.

Kirsten Major, Chief Executive, Sheffield Teaching Hospitals NHS Foundation Trust
---
South Yorkshire Mayoral Combined Authority
Working alongside the University of Sheffield has provided leadership, insight and capacity to our Culture work programme, underpinned with a vision to work collaboratively for the greater good and to unlock the untapped potential of the region's creative and cultural sectors.

Kate Brindley, Project Director Arts, Culture & Heritage, South Yorkshire Mayoral Combined Authority
Museums Sheffield
The very best of the region's arts, culture and heritage is developed and delivered through creative collaboration. The University's strategic role as a trusted partner has made great things happen – their work in supporting, commissioning and advocating for culture in all its forms has been pivotal.

Kim Streets, Chief Executive, Museums Sheffield
Sheffield Theatres
Working with the University on Together in the Square was a collaboration we all needed to bring cultural life back into the city. Their experience, passion and dedication for supporting artists, audiences and staff is second the none.

John Tomlinson, Producer, Sheffield Theatres
---
Barnsley Council
This is a civic university in action, truly collaborating with us and ensuring that their research meets our priorities while testing it in the living lab of Barnsley. This is applied research well and truly 'made together'.

Sarah Norman, Chief Executive Officer, Barnsley Council
---
South Yorkshire Community Foundation
I support Made Together; its values align with SYCF and together we can make a real difference to the region's communities.

Ruth Willis, Chief Executive, South Yorkshire Community Foundation
---