City showcases its musical prowess to celebrate BBC Music Day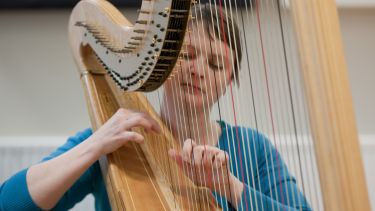 22 free events taking place across the city in one-day music extravaganza

City's top musicians are supporting the event

Event highlights why Sheffield is one of the UK's leading 'Music Cities'
Sheffield Makes Music is part of the BBC's national event taking place on Friday, 3 June 2016 which will give the city the chance to show off its music heritage with acts to suit all ages and tastes. Famous voices that have put the city on the international music map are helping support the event, hosted in a number of locations across the city centre.
CBBC will take to the stage at the Peace Gardens in the daytime to entertain the city's younger residents and there will be an appearance from Trae Mondo, an 11-year-old rapper who has already caught the attention of Dizzee Rascal.
Sheffield train station will host the city's very own male barbershop chorus Hallmark of Harmony. Market traders are getting into the groove with a headphone disco at the Moor Market and encouraging their customers to take part with either pre or post 1980 Sheffield hits to choose from.
Unite the Union's brass band will be playing in the Peace Gardens and cellists will delight travellers on the city's tram network.
Visitors to Barkers Pool will be able to relax on oversized beach chairs and enjoy live music outside the Big Yellow Bus. The Town Hall balcony will stage an opera performance, while the sound of brass will ring out from the City Hall steps.
There will also be steel percussion and drums hitting the beat at Sadacca on the Wicker, electronic music at Hope Works, a busker trail along coffee shops on Division Street and some surprises in store at Sheffield railway station and on the trams.
The day's line-up has been made possible thanks to support from the University of Sheffield, Sheffield's Business Improvement District (BID), Hope Works and Arts Council England.
It comes shortly after a music report, commissioned by the University of Sheffield which outlined the city's booming music sector and how Sheffield is well-positioned to be the UK's leading music city.
---
We're absolutely thrilled to be playing such a big role in BBC Music Day – a huge event on the music calendar which celebrates everything we love about music – fitting for Sheffield as this is a city which has music at its heart

Professor Vanessa Toulmin

Director of City & Cultural Engagement
---
Director of City & Cultural Engagement at the University of Sheffield, said: "We're absolutely thrilled to be playing such a big role in BBC Music Day – a huge event on the music calendar which celebrates everything we love about music – fitting for Sheffield as this is a city which has music at its heart.
"Our music report highlighted that Sheffield has the potential to be the UK's leading music city and this event will showcase some of the amazingly talented musicians we have in the city.
"With everything from opera, to folk, to jazz, steel drum performances, barbershop choirs, and brass band performances, the day will cover all music genres and showcase Sheffield's rich talent. There are also some more big artists to be revealed so watch this space!"
Sheffield Makes Music is part of the city's wider Year of Making 2016 – a festival to demonstrate that making is in the city's DNA, from advanced manufacturing to arts, music and theatre.
Diane Jarvis, Manager of the BID which works to enhance the city centre's image as a vibrant destination to boost visitor numbers, said: "Sheffield BID is delighted to be able to invest in the scaling up of local events to help deliver a fantastic BBC Music Day in Sheffield city centre. Sheffield has an outstanding music scene which we can leverage to help drive business growth and the visitor economy. This is a great opportunity to once again profile Sheffield's creativity and spirit at a national level."
Rebecca Sandiford, BBC Producer for BBC Music Day, said: "We are delighted that Sheffield is an important part of BBC Music Day this year with 22 events reflecting the diverse musical talent from across the city. We look forward to celebrating with Sheffield on Friday 3rd June."
BBC Music Day promises to be bigger and better in 2016. The national event will see Duran Duran and Laura Mvula live at Eden, Travis and the BBC Scottish Symphony Orchestra in concert, live music at 40 iconic bridges, and unique musical celebrations across the UK including a vegetable orchestra led by Shaun the Sheep.
Further details of the day's acts in Sheffield will be announced shortly.
Further Information
Sheffield Music Report

The Sheffield Music report mentioned above can be found here.
Year of Making

The Year of Making Sheffield (YOM) 2016 is a year long festival that celebrates our past, present and future as a city of makers and promotes Sheffield as a
world city with an international reputation for excellence and innovation. The festival incorporates five core themes: Art & Design, Manufacturing & Industry, Film & Literature, Heritage & Placemaking, and Music & Performance and features an exciting programme of festivals, theatre, exhibitions, conferences and cultural events offering a unique opportunity to unlock hidden talent and break down barriers.It champions all forms of making in the city and region – from advanced manufacturing, specialist steels, forged products, cutting tools, flanges, bearings and blades to award winning theatre, international art and design, ground-breaking research and world class talent. Making is in the city's DNA and continues to provide considerable economic and cultural vibrancy to our community and wider region.
The YOM Making Sheffield 2016 festival was conceived by the Sheffield Culture Consortium and is backed by the University of Sheffield, Sheffield Hallam University and the Arts Council. The Sheffield Culture Consortium has just been awarded 550,000 for a three year programme called 'Making Ways' to support activities that help visual artists create a living economy and YOM Sheffield 2016 is part of this.
The University of Sheffield

With almost 26,000 of the brightest students from around 120 countries, learning alongside over 1,200 of the best academics from across the globe, the University of Sheffield is one of the world's leading universities.

A member of the UK's prestigious Russell Group of leading research-led institutions, Sheffield offers world-class teaching and research excellence across a wide range of disciplines.

Unified by the power of discovery and understanding, staff and students at the university are committed to finding new ways to transform the world we live in.

In 2014 it was voted number one university in the UK for Student Experience by Times Higher Education and in the last decade has won four Queen's Anniversary Prizes in recognition of the outstanding contribution to the United Kingdom's intellectual, economic, cultural and social life.
Sheffield has five Nobel Prize winners among former staff and students and its alumni go on to hold positions of great responsibility and influence all over the world, making significant contributions in their chosen fields.
Global research partners and clients include Boeing, Rolls-Royce, Unilever, AstraZeneca, Glaxo SmithKline, Siemens and Airbus, as well as many UK and overseas government agencies and charitable foundations.
Contact