Everly Pregnant Brothers headline BBC Music Day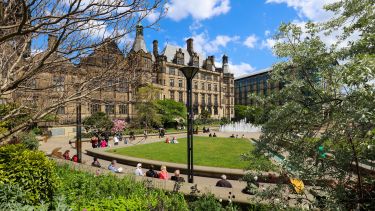 ● Everly Pregnant Brothers headline Peace Gardens stage
● TV and film star Maxine Peake performs with Electronic act 'Eccentronic Research Council'
● Reverend and the Makers' Jon McClure performs an acoustic set in Winter Gardens
The city will be turning up the volume for BBC Music Day on Friday 3 June 2016 with an amazing 22 planned events across the city.
Star of stage, screen and TV, Maxine Peake will perform a late-night gig with Electronic act Eccentronic Research Council at Yellow Arch Studios. The group have toured to sold-out venues across the UK and have released critically-acclaimed albums.
Reverend and the Makers' frontman Jon McClure will perform a special acoustic set in the Winter Gardens and CBBC favourite Woof the Dog will delight and entertain from the balcony of the Town Hall.
Shoppers can bop along to a headphone disco as they shop in the Moor Market and listen to Sheffield hits from past and present as they choose their fruit and veg.
Unite the Union's brass band will be playing in the Peace Gardens and cellists will delight travellers on the city's tram network.
Sheffield Makes Music is part of the BBC's national event which will give the city the chance to show off its music heritage with acts to suit all ages and tastes.
The day's line-up has been made possible thanks to support from the University of Sheffield, Sheffield's Business Improvement District (BID), Hope Works and Arts Council England.
It comes shortly after a music report, commissioned by the University of Sheffield which outlined the city's booming music sector and how Sheffield is well-positioned to be the UK's leading music city.
BBC Music Day promises to be bigger and better in 2016. The national event will see Duran Duran and Laura Mvula live at Eden, Travis and the BBC Scottish Symphony Orchestra in concert, live music at 40 iconic bridges, and unique musical celebrations across the UK including a vegetable orchestra led by Shaun the Sheep.
Staff at the University of Sheffield are also celebrating BBC Music Day with a new collection of music collated from talented colleagues across campus - from researchers in the Department of Music to people in local bands and those who are just beginning to embrace their musical talent. You can also find the #SheffieldMakesMusic playlists on YouTube and SoundCloud.
---
Sheffield Line-up
Barkers Pool: 12pm – 5pm

A varied showcase of Sheffield's wealth of local musical talent performing outdoors on the Bus Stage. 12pm Sundance
12.50 - Gramercy Park
1.40pm - Adelphi
2.30pm - Lily Gaskill
3.30pm - Cellar Door Moon Crow
4.20pm - Smiling Ivy

Peace Gardens: 2pm – 9pm

2pm - Sheffield Performing Arts
2.30pm - Barney Baloney the Magician
3.00pm - The Stars Band
3.15pm - Sheffield Performing Arts
3.45pm - Trae Mondo
4.15pm - Barry Phillips Karaoke
5.30pm - Barney Baloney the Magician
5.50pm - Barry Phillips Karaoke
8.00pm - Unite the Union Brass Band & Everly Pregnant Brothers

Town Hall Balcony: 5:15pm – 5.35pm

When the bells toll at 5.15pm, Nessun Dorma will be performed from the balcony of the Town Hall. Followed by CBBC Presenter Karim and Woof.
5.15pm - Opera on location with Gareth Lloyd.
5.25pm - CBBC presenter Karim & Woof the dog.

Leopold Square: 3pm – 9pm

An exciting fusion of Jazz, Latin, Blues and Soul together with contemporary hits and Pop classics.
3pm - Silver Strings
5pm - Danny Maddocks
7:30 - Crimes Against Taste

Frog & Parrot, Division St: 1.30pm – 3.30pm

1.30pm - Andy H DJ set
2.30pm - Sweet Honey Holes

Sadacca: 6pm – 9:30pm

Snap is an active event that uses current popular youth culture to engage with young people.
6pm - MC Nige, DJ Marls & Manic
7pm - Dapz on the Map
7.20pm - DJ Marls & Manic
8pm - Deep Green
8.20pm - DJ Marls & Manic
9pm - Coco

Tamper Sellers Wheel, Arundel Street: 12pm – 4pm

12pm - Sweet Honey Holes
3pm - Dead Slow Hoot

Winter Gardens: 10am – 5pm

Local music fans, musicians and gig goers have contributed hundreds of their favourite music memories and experiences - these will be displayed in the Winter Garden throughout the day.
10am - Extreme Cello
11am - Crimes Against Taste
2.30pm - Jon McClure (Reverend and the Makers) Acoustic Set
5pm - Vivacity

John Lewis: From 11am

11am - Gina Walters

Moor Market: 12 – 5pm

Headphone Disco featuring Sheffield hits past and present

Yellow Arch Studios: From 8pm

An evening of live music and DJ's curated by DJ Sophie Toes.
8pm - The Third Half
9.15pm - Sieben
10.30pm - The Death Rays of Ardillo
12am - Eccentronic Research Council featuring Maxine Peak

Hope Works: From 12am

Mapping Creativity is a 3D projector mapping art installation and music event in Hope Works Sheffield curated by Lo Shea and part of 2016's Year Of Making. Dance to the sound of Sheffield musical artists while watching the makings of our makers. Music starts from midnight.

Stagecoach Supertram: From 9am

Expect a Sheffield legend telling you the next stop on the tannoy all the way to Meadowhall! Great local Sheffield bands busking up and down the trams in Sheffield from the University to the train station.
9am - Liberty Ship
10am - Lily Gaskill
11am - Ethryll
12pm - Extreme Cello
1pm - Extreme Cello & Crimes Against Taste
2pm - Crimes Against Taste

The Star Flyer on Fargate: All Day

Listen a little closer and the giant Star Flyer attraction is only playing Sheffield artists' music.

Sheffield Train Station: From 5pm

Expect a famous voice over the tannoy system in the morning and Choirs & Orchestras in the afternoon. Local music fans, musicians and gig goers have contributed hundreds of their favourite music memories and experiences - these will be displayed in the station throughout the day.
5pm - Voices of the Sheffield of Philharmonic Orchestra
5.45pm - Extreme Cello
6.30pm - Hallmark of Harmony

City of Makers Gallery/Alt Seen Eye: From 1pm

Walk from Barkers Pool and Sheffield Town Hall to the City of Makers Gallery on Charles Street which will host some of Sheffield's talented local artists.
1pm - The Crookes (acoustic set)
2.30pm - Jack the Lad
4pm - Laurel Canyons (acoustic set)

City Hall Steps: From 5:30pm

Crimes Against Taste

Ponds Forge Supertram Bridge: From 10:30am

A special live performance on the iconic Ponds Forge Supertram bridge.
10.30am - Hot Soles

Roaming BBC Van

Raucous two-piece Hot Soles are on house band duties for the day, providing 'aggressive soul vibes'.
Further Information
Year of Making

The Year of Making Sheffield (YOM) 2016 is a year-long festival that celebrates our past, present and future as a city of makers and promotes Sheffield as a world city with an international reputation for excellence and innovation. The festival incorporates five core themes: Art & Design, Manufacturing & Industry, Film & Literature, Heritage & Placemaking, and Music & Performance and features an exciting programme of festivals, theatre, exhibitions, conferences and cultural events offering a unique opportunity to unlock hidden talent and break down barriers. It champions all forms of making in the city and region – from advanced manufacturing, specialist steels, forged products, cutting tools, flanges, bearings and blades to award winning theatre, international art and design, ground-breaking research and world class talent. Making is in the city's DNA and continues to provide considerable economic and cultural vibrancy to our community and wider region.
The YOM Making Sheffield 2016 festival was conceived by the Sheffield Culture Consortium and is backed by the University of Sheffield, Sheffield Hallam University and the Arts Council. The Sheffield Culture Consortium has just been awarded 550,000 for a three year programme called 'Making Ways' to support activities that help visual artists create a living economy and YOM Sheffield 2016 is part of this.
Sheffield Makes Music - Year of Making
---
The University of Sheffield

With almost 26,000 of the brightest students from around 120 countries, learning alongside over 1,200 of the best academics from across the globe, the University of Sheffield is one of the world's leading universities. A member of the UK's prestigious Russell Group of leading research-led institutions, Sheffield offers world-class teaching and research excellence across a wide range of disciplines.

Unified by the power of discovery and understanding, staff and students at the university are committed to finding new ways to transform the world we live in. In 2014 it was voted number one university in the UK for Student Experience by Times Higher Education and in the last decade has won four Queen's Anniversary Prizes in recognition of the outstanding contribution to the United Kingdom's intellectual, economic, cultural and social life.

Sheffield has five Nobel Prize winners among former staff and students and its alumni go on to hold positions of great responsibility and influence all over the world, making significant contributions in their chosen fields. Global research partners and clients include Boeing, Rolls-Royce, Unilever, AstraZeneca, Glaxo SmithKline, Siemens and Airbus, as well as many UK and overseas government agencies and charitable foundations.
Contact
Kirsty Bowen
Media Relations Officer
+44 114 222 1034
kirsty.bowen@sheffield.ac.uk
A world top-100 university
We're a world top-100 university renowned for the excellence, impact and distinctiveness of our research-led learning and teaching.