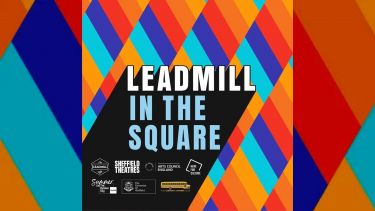 Alongside The Leadmill, Yellow Bus Events and Sheffield Theatres, the University is proud to announce 'Leadmill in the Square', a weekend of free, outdoor live music performances taking place in Tudor Square as part of Sheffield's 'Summer in the Outdoor City' programme.

Following on from the huge success of Sheffield Theatres' initial 'Together in the Square' event at the end of June, there will be a mixture of live music taking place over the course of the weekend, with events running from 12pm – 8pm on Saturday 7th and 12pm – 4pm on Sunday 8th. The Leadmill have programmed back-to-back performances, featuring a hand-picked selection of the iconic venues absolute 'ones to watch,' as well as a number of fantastic street artist performers.

As part of the sensational line up curated by the live team at The Leadmill, we have a wealth of musicians representing the exciting diversity in artists and genres that makes Sheffield's music scene so compelling. Artists performing across the weekend include:
Saturday 7th August
Vocalist, songwriter and musician Nørskov (semi-finalist on The Voice UK 2021)
Singer-songwriter Nat Short (performed on the Leadmill Stage at this years Tramlines festival)
17 year-old singer-songwriter Daisy Peacock (an exceptionally exciting young talent)
Acoustic guitarist and vocalist Jacob Oldroyd (local songwriter on the rise)
Sunday 8th August
Alternative-pop girl band Potpourri (quirky pop outfit, sure to bring the sunshine whatever the weather)
Lo-fi pop band Shelley Byron & The Poison Sleep (performers at this year's Tramlines festival)
Retro-pop band Minds Idle (hotly-tipped band making waves in the local scene)
The music performances will be interlinked by a variety of street artist performances from the likes of the fantastic Rimski & Handkerchief, Team Beegee, Elton Wrong and Val & Halla.
The days are completely free entry, welcome to anybody passing by. You'll be able to grab a seat either on our deck chairs or communal bench seating and drinks will be available to purchase from The Crucible Corner venue. 
"We are delighted to be working with another of Sheffield's cultural icons – The Leadmill, and what a fantastic programme of music and events they have put together that highlight our local musical talent. Our partnership with Sheffield Theatres and The Leadmill will see great performers working together across the theatre and music world to bring Tudor Square alive and vibrant. So boogie on down to Tudor Square, hang out with us at Crucible Corner, listen to the music and laugh along with our street performers!"​​​​

Professor Vanessa Toumlin

Director of City and Culture, University of Sheffield

Rose Wilcox – Head of Programming, The Leadmill – "we are so thrilled at the opportunity of hosting a musical weekend outside of our usual walls and in one of our favourite parts of the city centre! The team at The Leadmill work tirelessly to help develop talent based within the city, offering supporting slots at various events, curating entertainment as part of the annual Tramlines festival etc. For us to be able to continue to do so by offering exposure in such a popular space in town, with drinks and space for dancing along available, we couldn't be more pleased!"
Events at the University
Browse upcoming public lectures, exhibitions, family events, concerts, shows and festivals across the University.