Listening to stethoscopes and raising aspirations: Medical students teach Medicine in a Box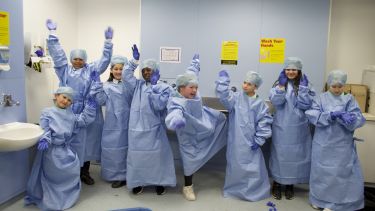 The first South Yorkshire Children's University "Project in a Box: Year of the Doctor" was delivered to primary schools by medical students at the University of Sheffield. The sessions across Sheffield, Rotherham and Doncaster were for pupils to explore what it's like to be a doctor and learn about their own health. The Children's University is a national initiative that celebrates participation in learning activities and opportunities outside of normal school hours.
The schools were given a free box that included medical teaching materials such as a stethoscope, sponges with blunt needles to practice suturing, pulse oximeters and supporting worksheets, as well as the opportunity to have university medical students to support delivery and bring the whole project to life.  
The sessions taught children about going to the doctor, what happens there, and whether to treat illnesses at home, in the hospital, or at the GP. Other sessions covered GPs, physiotherapists, pharmacists, radiographers, and nurses in order to make medicine less intimidating and more accessible. The sessions also focused on living well and making good life choices in order to inspire potential future generations of doctors and healthcare professionals.
The sessions were developed by third-year students from the University of Sheffield Medical School's Sheffield Widening Access to Medical School (SWAMS). The sessions were delivered by the University's Community Placements for Medical Students scheme, where medical students choose a placement from a wide range of community organisations supporting the most vulnerable people in society, which provides them with an opportunity to spend time with people in a non-clinical setting and gain knowledge and understanding of influences on health outcomes.
SWAMS' former co-president and medical student Zoe Rubins, alongside Dr Joanne Thompson, Academic Lead for Community Placements for Medical Students and Taiba Yasseen, Community Widening Participation at the University of Sheffield, and Rebecca Mcqueen and Hayley Hartley from South Yorkshire Region Education and Careers, led on designing the sessions and creating the box. Zoe says, "We've done a lot of work supporting older students, so it was a great opportunity to try out something for much younger students. We couldn't have done it without the opportunity and support from Children's University."  
SWAMS publicity officer Nicole Freeman also supported the design of the school sessions. "We tried to think about what different areas of medicine we would want to show primary school children - the things they would understand and find interesting. The children wore scrubs and learned how to suture and the sessions showed medicine was seen as something that they could actually do, and hopefully fun and inspiring, basically we were bringing medicine to life!"
We are very proud of our medical students, Children's University and the Widening Participation team who have worked tirelessly during the pandemic to make the Year of the Doctor happen. We are thrilled about working with the Children's University to expand the project in a box from Sheffield to include Rotherham and Doncaster for the first time.

Professor Michelle Marshall

Head of Medical Education at the University of Sheffield
The Project was extremely well planned and thought out with excellent resources and guidance for those running the sessions. Very little preparation was needed and the slides provided a great structure for the sessions. All the activities were enjoyed by the children and having the medical students from the university there was invaluable! The children had so many questions and were so intrigued by the stories and information that the students shared. It was amazing having experts in the room to educate both the children and me even further!

Sarah McNally

Children's University Coordinator from Arbourthorne Community Primary School
It's been fantastic to work with such a group of inspiring medical students to bring this project to life. We've been able to include a full range of activities which not only will inspire the next generation of medics, but will also enable the children to develop a range of essential life skills, such as leadership, problem-solving and teamwork, which are vital in all careers, but especially in medicine and healthcare. Being able to offer this opportunity to Children's University schools across the region for the first time is really exciting, and will hopefully result in a number of Sheffield Medical School students of the future coming from our very own region.

Helen Oades

South Yorkshire Children's University Project Manager
The South Yorkshire Children's University is a strategic partnership which aims to share good practice and develop collaborative projects for the benefit of all young people and families in the region.  The project was part of the University of Sheffield's Made Together programme, working with partners in South Yorkshire to support the region's health and develop skills and talent.
A global reputation
Sheffield is a research university with a global reputation for excellence. We're a member of the Russell Group: one of the 24 leading UK universities for research and teaching.