Made Together: How pioneering book scheme is celebrating city's diversity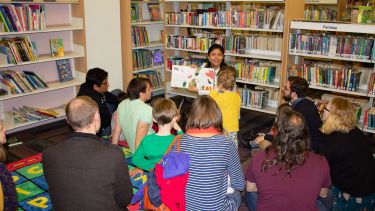 Originally published in the Sheffield Star, 14.01.2022
Sheffield has a long and vibrant history of migration but I wanted to take it a step further by developing a public space with resources – and a welcome – for people from all backgrounds. This is how the idea of creating the Multilingual Children's Library in partnership with Sheffield Central Children's Library began.  
As a University of Sheffield specialist in multilingual education, I knew that families who speak other languages at home needed somewhere to access books. 
My idea was to create a space where children could do that, but also read aloud and hear their languages spoken in public. What I really wanted to do was show the multilingual children who live here that Sheffield values their languages and heritage.
The city council's library team could not have been more supportive and gave us a prominent, dedicated space - the University's Made Together approach is all about working with partners to deliver benefits for the whole city region and the Multilingual Children's Library is a perfect example of how it works.
We started in Sheffield Central Children's Library in 2018 with 500 books in 37 different languages donated by publishers, authors, illustrators, translators, and the public, and created 'reading passports' and special certificates to encourage children in their multilingual reading efforts.
The Central Library is a vital civic space in the heart of the city; a shared living room where Sheffielders from various backgrounds come together to learn, play, and enjoy life enriching cultural experiences. Thanks to the support of Sabine and the University, we have created a space that is even more inclusive, and reflects the diversity and cultural richness of our shared city home.

Councillor Alison Teal

Executive Member for Sustainable Neighbourhoods, Wellbeing, Parks and Leisure at Sheffield City Council
Originally the scheme was a pilot for a year, but it has been a real success and is still going strong. I have never encountered so many open doors as I have with this project and the library team has been fantastic. 
We have had all kinds of events, readathons and book swaps and attracted 400 people for one event. One mother said that, until that point, her daughter had never heard her language spoken in public, and she subsequently set up a playgroup for Lithuanian-speaking children in Sheffield.
The challenge now is to sustain and grow the project. Most of the books come directly from publishers but it's tricky to get the right balance. We have lots in certain European languages but a shortage in some languages we need, like Arabic, Urdu, Somali and Punjabi. 
The success of the multilingual children's library is a fantastic example of the kind of impact that the University's Made Together approach can have in the region, but it goes beyond Sheffield and South Yorkshire.
I am happy to talk to schools and libraries about supporting multilingual families and how they can set up their own multilingual children's libraries, and there are a host of materials – including artwork, guidelines and certificates, available for download. For children, it is vital to see their multilingualism as an important skill set, and supporting and rewarding their reading efforts can help with that.
Ultimately, I want to make it easy for others to set them up too – wherever they are, and whether they start with a single shelf or a box of books. Anything is better than having nothing at all!