£15m plans to 'future-proof' Covid-hit Sheffield shopping street with events hub, hundreds of flats and pocket parks.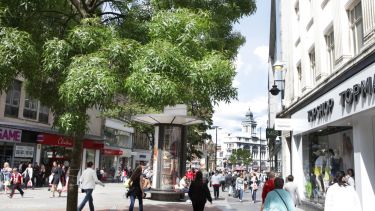 Originally published in The Star, 26.08.20
05.01.2020: As announced on 26 December 2020, Sheffield has been awarded £15,817,001 in funding from the Future High Streets Fund. More information can be found here. 
Fargate in the city centre could be overhauled to include a giant 'Events Central' hub, new access to disused offices, paving the way for flats, and play areas, lighting and landscaping.
The vision also includes outdoor seating for cafes and retaining anchor shops including a large Marks and Spencer.
If the Future High Streets Fund bid is approved by government in autumn, work would start as soon as January and take two years.
'Event Central' building and Fargate following a proposed £15m revamp. Image from the University of Sheffield.
The project cannot come soon enough for the premium shopping area which is 'the worst it's been' after coronavirus accelerated its decline. More than a quarter of its 40 units are empty.
Prof Vanessa Toulmin, of Sheffield University, who is leading the bid, said it was an opportunity to "future-proof the city centre for the 21st century."
She added:
I'm confident we've put the best bid in and confident the scheme would bring an economic return for the city. It also means a return in people who will use Fargate as a place to live and share experiences. It becomes part of the city centre again

Professor Vanessa Toulmin, Director of City and Culture
Plans for 'Event Central' show a six-storey building that would 'support a year-round programme of events'. They would also be held in new 'pocket parks' on Fargate, with a larger area for gigs at the top.
Prof Toulmin said they had the rights to buy several buildings and details of 150 different events which could attract 110,680 visitors annually, from children's workshops to concerts.
A programme to build access to upper storey offices would open them up for flats for hundreds of people. Currently 79 per cent are empty.
Planting, lighting and landscaping would transform the 'public realm' and cut crime. The project also incorporates High Street.
Prof Toulmin said it had widespread support from politicians, businesses, shopkeepers, more than 500 people and some 27 building owners, many of whom had written letters of support.
A big gig on Fargate. Image from the University of Sheffield.
It was devised by a 'world-leading' team of academics at the University of Sheffield, including experts in architecture, town planning and children.
Having worked on it for 14 months, she would be 'devastated' if it were unsuccessful, she added.
A spokeswoman for the Ministry of Housing and Local Government said Sheffield City Council's bid for Fargate and High Street was shortlisted in the Future High Streets Fund on July 5.
All 101 shortlisted places had now submitted final business cases. Announcement of decisions was due 'from autumn'.
Coun Mazher Iqbal, cabinet member for business, said it was Fargate's best chance for renewal in the short term.
He added: "Cash to help accelerate plans would be great news for Fargate and the wider city. It would provide a link between the Heart of the City II and Castlegate."
Alexis Krachai, director of Sheffield Property Association, said Fargate could draw inspiration from La Rambla, a pedestrian street in Barcelona.
He added: "Fargate is one of the few wide, pedestrian thoroughfares in the city centre and it lends itself to more outdoor eating and activities - that's relevant in a pandemic."
Adam Murry, of Urbana Town Planning, said: "Allowing units to utilise the space in front of them for outdoor seating and the like, is a huge positive. I also like the idea of being able to hold large events, though we do have to be aware of how this could put off a higher end restaurant or bar.
"Local Plan policy is being updated, though as this takes time, it's important for all in Sheffield City Council to be shouting about the flexibility of use along Fargate and their support for outdoor space for restaurants and bars.
Event Central and a bustling Fargate. Image from the University of Sheffield.
"Due to the grandeur of the street I would really love to see the plans look to attract a high-end user, so that everyone didn't head out of the city in the evening to suburbs where higher end provision can be found."
On LinkedIn, Karen Perkins, life and career coach, said: "Why not requisition the Yorkshire Bank building and create a Leeds Corn exchange type setting for indie pop-ups and try-outs as people not wanting to commit yet?"
Dan Kirkland, co-founder of Sheffield software firm Tribepad, said: "I'd like to see a lot more independent stores and cafes in Fargate.
"The area is perfect to create Sheffield's answer to Covent Garden. Make Fargate a place to enjoy experiences - like music, street entertainment, markets. Make it a place people want to go to, not just a place people need to go to for shopping."
Ian Rands, head of commercial support at DLA Piper, added: "I agree with Dan. It's perfect for independent cafe/bars with covered seating. The big retailers are going to struggle for the foreseeable, so some key anchor tenants with a broader leisure appeal around it."
Proposals for a restaurant with rooftop bar in the empty Next store on Fargate appear to have stalled. They were floated by landlord Woodhead Investments last year but the unit is still on the market with Lambert Smith Hampton. Clothing retailer Next moved to a new store on The Moor last year. It has been followed by New Look and River Island.
The Star understands an empty unit next to the new Superdrug on Fargate is set to be a restaurant.
Meanwhile, shoppers have complained about an increase in drug addicts on the street.
Despite new, relaxed 'pavement licence' rules on outdoor seating, there is none on Fargate, which is home to a Starbucks and a Caffe Nero.