Santander UK Universities rewards Sheffield students for entrepreneurial ideas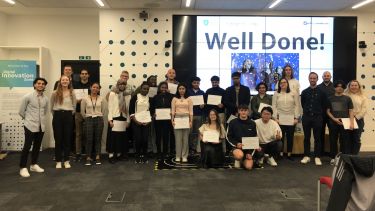 The Ideas for Good Programme is a five-week course offered by the University of Sheffield's Entrepreneurship Team in collaboration with Sheffield's Entrepreneurial Spark. The programme includes students from all faculties at the University of Sheffield and focuses on developing solutions that actively address global and local challenges.
15 student teams began with challenges related to Technology and Digital for Good, Material Sustainability, Food and Construction plus Health and Wellbeing. Facilitators and expert mentors led the student teams and individuals through each week of the programme, allowing them to evaluate ideas, develop new skills and connect with the business community in Sheffield and the wider region. Throughout the day, guest presenters also shared their experiences starting their own businesses, including Gabriele Barteskaite and David Dixon from Future Greens, a Sheffield-based indoor farm growing enterprise, and Daniel Blaney from Sheffield software startup Ferrio.  The final part of the programme was business pitch writing in preparation for pitching to a panel of judges where the Santander funding was up for grabs.
The winners were: Yasmeen Eleanor Razaq from the Department of Philosophy, her business Idea was 'Sew Sanitary', which is a sustainable approach to period products that empowers refugees, the homeless, and the poor by offering sewing classes where they can make their own reusable sanitary pads and gain employable skills.  Ali Mitha from the Department of Computer Science had the winning idea,'Journey to a Plant Based Diet' which aims to support people to start or maintain a plant-based diet whilst promoting companies with plant-based products. Also from The Department of Computer Science student Alex Street won with his idea ''GoodThing', the idea is to unite the community, local businesses and charities through a new generation of volunteering platform. Students from Material Science Engineering, Sophia Carpio, Esther Mboya, Naomi Abodunrin and Ireoluwa Morakinyo won with their idea 'Tessellate' which is using repurposed plastic to create art and integrate communities. The audience chose Sky Droysen von Hamilton from the Department of Philosophy for her idea of 'The Lunch Club,' a community project centred on the experiences of neurodivergent people and people with mental health issues who struggle with disordered eating.   The winners will be able to use the funding to further develop their business ideas. 
On the panel of judges was Natwest's local enterprise manager, Charlie Tunnard and University of Sheffield staff Scott Gladwood and Maria Fernanda Velazquez de la Paz. Scott Gladwood said: "The quality of the pitches was really impressive - especially given they're such early stage businesses. There's clearly a wealth of entrepreneurial talent to be unearthed within the University's student body." Maria Fernanda Velaquez de la Paz said: "The Ideas for Good programme has been a great opportunity for curious (and future) entrepreneurs to give structure to their ideas, test their skills and get first hand coaching and feedback. It was great to see the variety of projects and their efforts to contribute to a better society and environment"
Entrepreneurship at the University of Sheffield promotes a culture of excellence in innovation and entrepreneurship, the team develops entrepreneurial individuals, nurtures challenge-led startups and supports the growth of the regional ecosystem.
Sheffield's Entrepreneurial Spark are global experts in entrepreneurial mindset, they help people at the heart of the business to break out of their comfort zone and fulfill their potential and deliver inclusive growth by driving up the success rate of entrepreneurs globally.  
Santander UK Universities is committed to progress and inclusive, sustainable growth, with a long-standing dedication to higher education that sets it apart from the world's other financial institutions.  With more than €1.800 million invested in academic initiatives since 2002 through Santander Universities, and over 430,000 university scholarships and grants awarded since 2005, they've been recognised as the business most invested in education in the world (Informe Varkey,/UNSESCO/Fortune 500), with agreements in place with 1,000 universities and institutions in 22 countries.
A global reputation
Sheffield is a research university with a global reputation for excellence. We're a member of the Russell Group: one of the 24 leading UK universities for research and teaching.