Santa's students helpers support local charity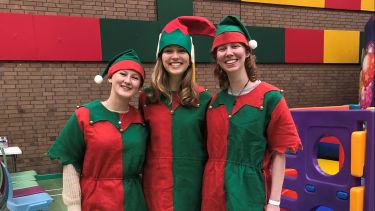 While on placement with the charity, the third-year medical students dressed as Christmas elves for Mencap's annual Christmas fair and even helped Santa in his grotto.  Families from all around the city enjoyed a bouncy castle, face painting, games and craft projects at the fair, which was free to visit in the Norfolk Park area of Sheffield. 
The placement is part of the students Social Accountability project (as part of their course) and they have supported Mencap tutors and staff to deliver sessions in a variety of activities including sport, art, cookery, drama, creative writing, gardening, animation and film making.
Sheffield Mencap & Gateway is an independent charity that supports more than 500 people with learning disabilities and autism, and their families.  The charity was established 70 years ago by parents who wanted a better life for their children with learning disabilities. 
We've been involved in helping with activities, trips, and preparations for their Christmas fair - which ended up raising £4,800! We've thoroughly enjoyed the experience so far and learnt so much from the members and staff. It's been hugely beneficial for our communication skills and future practice, and we were really grateful for the opportunity."

Hannah Howard 

Medical student 
"We're working in partnership for the health and wellbeing of people in South Yorkshire and since 2015, The Medical School has been working with local organisations with our third year medical students. Students choose from a wide range of 4 week full time placements and engage in activities relevant to the organisation. The focus of this work is to help future doctors to learn about serving their communities, while also hearing about wider determinants of health, health inequalities, social injustice and the impact of such factors on health, wellbeing and life chances. The placement at Mencap and Gateway is a brilliant example of our students working together in partnership with a local community, aligned with One University and the University's Made Together programme. These opportunities truly value lived experience which inform the training of our future doctors, many of whom will remain in the area to work as a Foundation doctor." 

Dr Joanne Thompson 

Senior University Teacher, The Medical School.