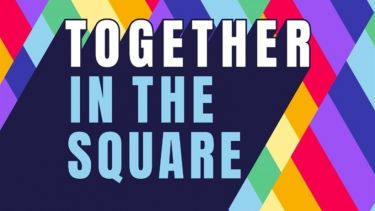 Sheffield Theatres, in production with The University of Sheffield and Yellow Bus Events, today announce the return of Together in the Square, an outdoor weekend of free events. Taking place on Saturday 9 and Sunday 10 July, Tudor Square will be transformed into a festival space with events including street acts, music, poetry and theatre.
This year's Together in the Square will mark Sheffield Theatres' participation in the city-wide series of cultural events celebrating the UEFA Women's EURO 2022, of which Sheffield and Rotherham will be host to matches in the tournament from Wednesday 6 to Sunday 31 July.
On Saturday 9 July, performances, curated by the creative teams at Sheffield Theatres will run from 11am – 7pm and on Sunday 10 July from 11am – 4pm.  Alongside other creative events happening across the city, Sheffield Theatres celebrates the history of football in Sheffield. Matches will take place throughout July at both Bramall Lane in Sheffield and New York Stadium in Rotherham, with events such as Together in the Square supporting the celebrations throughout South Yorkshire.

Professor Vanessa Toulmin, Director of City and Culture at the University of Sheffield, said: "Sheffield residents and visitors are always in for a treat when the University of Sheffield teams up with the excellent team at Sheffield Theatres and our long-standing events partner, Yellow Bus. Bringing some much-needed life back to the city centre and allowing many local artists and entertainers to display their talents is a wonderful thing to be a part of. Here's hoping for clear skies, warm weather, and a joyful crowd. The event also takes place on the University's summer open day, showing prospective students just how exciting Sheffield city can be!"
All performances at Together in the Square will be free with unallocated seating on Tudor Square. Together in the Square is made possible by the support of Sheffield City Council. More information can be found at sheffieldtheatres.co.uk.