University of Sheffield supports award-winning student skills scheme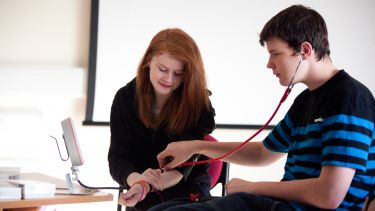 The Sheffield College has welcomed The University of Sheffield as one of five new organisations to join the College's employer skills academies programme. The University of Sheffield's Healthcare Academy will enable students to gain an understanding of the various roles available within the healthcare sector.
Set up in partnership with employers, the academies cover business and enterprise, construction, catering and hospitality, cyber security, engineering, games, animation and special effects, healthcare, information technology, plumbing, professional make-up, sales and marketing, and sport.
Employers co-design the academies' curriculum to simulate real-life work and provide masterclasses, projects, workplace or industry-relevant visits and placements to enhance students' employability skills. The University of Sheffield launched two Healthcare Academies at the College's City and Hillsborough Campuses, allowing students from both sites to enhance their college studies, develop their professional industry knowledge and gain insight into university life, working closely with representatives from the University.
We are very proud of our award-winning employer skills academies. They are inspiring our students to get the skills, sector knowledge, practical experience and qualifications to go further in their careers.

Angela Foulkes

Chief Executive and Principal, The Sheffield College
The partnership is part of the University of Sheffield's Made Together programme, working with partners to make our region healthier and supporting the next generation of healthcare professionals from across South Yorkshire to develop the practical skills they can take with them on the next step in their education. 
This ground-breaking partnership with The Sheffield College will empower and equip healthcare practitioners of the future. The University of Sheffield is passionate in supporting and preparing prospective students before they take their next steps in a range of health disciplines, from nursing and midwifery to dentistry and orthoptics. 

Our goal is for young people to be at the forefront of change in order to improve the health and wellbeing of local communities and to understand how to combat health inequalities in all areas of South Yorkshire. The workshops and masterclasses will provide young people with an overview of university life as well as the various healthcare roles available to them. They will have exclusive access to professional industry knowledge, interactive equipment, and real-world scenarios.

Professor Mary Vincent

Vice-President for Education, University of Sheffield
The Academy will support students to undertake an employer-led programme of workshops, masterclasses and inspiring employability skills training sessions throughout their course to transform their life through learning. The students will be given the opportunity to learn from, and demonstrate their skills throughout their time in the academy to enhance their self-development and prepare them for life in the healthcare sector.
The academy also supports students who are unsure of their career path with an insight into the various healthcare roles that are available, covering an array of subjects such as psychology and sociology, infection control, and equality and diversity. The students will undertake their learning in a University of Sheffield branded classroom, complete with an array of interactive equipment and real-life scenarios that they may face in the working world.
We are delighted to welcome five new employers to the programme. Employers have the opportunity to mould the talent of the future to meet local skills needs. Their staff also benefit from upskilling as they become involved in the mentoring of our students.

Rachel Topliss

Head of Employer Engagement, The Sheffield College
Around 1,200 students took part in the College's programme in 2021/22 which included 145 masterclasses as well as industry visits and placements and workshops.
A global reputation
Sheffield is a research university with a global reputation for excellence. We're a member of the Russell Group: one of the 24 leading UK universities for research and teaching.