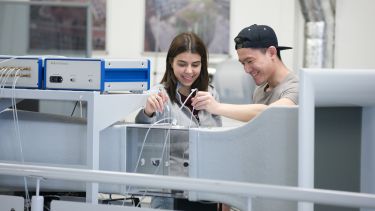 Off
The Diamond accommodates undergraduate teaching for the Faculty within specialist teaching laboratories, lecture theatres and flexible teaching rooms over six floors. The building also provides substantial mixed-use, student-led learning and teaching spaces.
The nineteen laboratories in the building provide specialised engineering facilities to offer an excellent practical experience for students. Dedicated teaching staff deliver exciting teaching to support students' development into graduate engineers.
Please note, facilities within The Diamond are for use by undergraduate students only.
---
Architectural Engineering
New instrumentation in vibration engineering, environmental engineering and nanotechnology.
Monitoring equipment for assessing the real-life performance of buildings: energy monitors, indoor environment monitors, heat flux monitors, thermal camera.
Wind tunnel suitable for assessing the impact of wind on urban forms at 1:200 scale.
Structural Engineering
Multi-axial testing equipment at elevated temperature.
Testing rigs for ambient and elevated temperature conditions.
Cement and concrete durability testing and material characterisation.
Field laboratory for full-scale impact and explosion research.
Geotechnical Engineering
Large-scale triaxial apparatus for stress path and cyclic load testing.
Flexible walled triaxial calibration chambers.
Optical microscopy.
Digital camera and measurement software
Model pile testing and durability testing facilities.
Granular flow model rig and complimentary high-speed camera for debris flow simulations.
Conventional and specialised soil testing apparatus, including a transparent soils laboratory.
Geotechnical centrifuges - our world-leading 4 metre beam centrifuge, and complementary small-scale education centrifuge.
Numerical modelling software, including LimitState, FLAC3D and LS-DYNA.
Facility for experimental modelling of slope stability and landslide mechanics.
Water Engineering
Static and tilting research flumes.
Urban drainage testing rigs, laser and video-based measurement systems.
Pipe loop to explore dynamics of water distribution systems and a temperature controlled pipe loop to investigate water quality in distribution systems.
Modern, fully equipped lab for microbiological, chemical and pollutant analysis.
Experimental facilities for investigating environmental processes and pollutant interactions in the geosphere.
Extensive field measurement and modelling software.
Our league table rankings
Top 50 in the world and 7th in the UK according to the QS World University rankings by subject (2022).
8th in the UK according to the Complete University Guide (2023).
10th in the UK according to the Times University League Table (2023).
A world top-100 university
We're a world top-100 university renowned for the excellence, impact and distinctiveness of our research-led learning and teaching.