(Room 3.02 - Third Floor)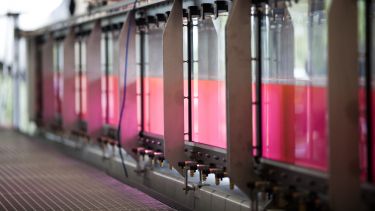 Off
Overview:
The Fluids Engineering Laboratory provides students with the opportunity to experiment with the principles governing the mechanics of fluids, namely air and water. Using state-of-the-art equipment, the laboratory assists them in investigating real-world applications, eventually leading them to design safe and efficient fluidic systems such as domestic water pipelines, air used to cool electrical chips or hydroelectric power stations.
The showpiece of the laboratory is a 10-metre long teaching flume capable of recirculating 117 tonnes of water per hour. By developing lab-scale simulations of rivers, culverts, weirs and the interaction of waves with beaches, students can use the flume to study the principles of open-channel flow.
The facility also contains 20 hydraulic benches used to provide an understanding of the effects involved when fluids are transported or stored. Experiments in areas such as flow measurement, turbulent and laminar flow, frictional losses, impacts of jets and floating stability can all be performed using such equipment.
The laboratory is equipped with 20 computer-controlled pumps and turbine rigs so students can see the operation of pumps and different turbine designs and investigate the factors affecting their performance.
Finally, experiments on aerodynamics can also be performed within the laboratory. The four computer-controlled wind tunnels demonstrate to students how the shape of an aerodynamics object, such as a wing, affects lift, while factors such as drag, pressure distribution, wake, and separation can all be examined. The laboratory is also equipped with a further 20 carbon-fibre teaching wind tunnels for simpler flow visualisation and friction experiments.
Students will learn:

Hydrostatics.
Laminar and Turbulent flow.
Internal flow, for example inside pipes and valves.
Aerodynamics.
Open channel flow.

What equipment is in this lab?

4 x Armfield C15-10 Wind Tunnel & Modules
2 x Gunt HM 155 Water Hammer
1 x Gunt HM 162 Modular Flow Channel - 10m Flume
1 x Gunt HM 164 Open Channel and Closed Channel Flow - Small Model Flume
20 x Large Buoyancy/Drag Tubes
10 x Weight Drag Assemblies                                            
20 x Cussons P6100  Hydraulics Benches with the following modules:

P6220/21/22 Water Flow in Pipes and Fittings Experiments
P6233 Impact of Jets
P6234/35/37 Hydrostatics Experiments
P6239 Water Flow Measuring Apparatus
P6248 Osborne Reynolds Apparatus
P6510/139 Network of Pipes

Darcy's Apparatus
Gate Valve Experiment
20 x Mini Wind Tunnels with various Diffuser Sections
10 x Non-Newtonian Speaker Apparatus

Links to other Departments:

Which staff are in this lab?

Request Use of Equipment:

Please email a.garrard@sheffield.ac.uk with:

Your name
Your degree & year of study
What equipment you want to use and why

Please allow 3-5 working days for a response.
A global reputation
Sheffield is a research university with a global reputation for excellence. We're a member of the Russell Group: one of the 24 leading UK universities for research and teaching.