Mappin Building and the Heartspace
The Faculty of Engineering's main home is the grade II listed Sir Frederick Mappin Building, a space dedicated to engineering for almost 150 years.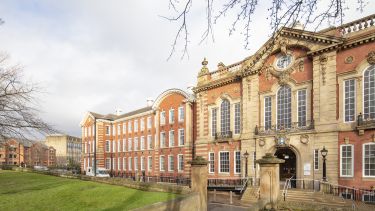 Off
The Sir Frederick Mappin Building, is a grade II-listed building fronting onto Mappin Street, Sheffield. The building and street are named after Sir Frederick Mappin (1821–1910) who was a Sheffield factory owner and politician who supported the formation of the University of Sheffield and subsequently became the first Pro-Chancellor in 1905.
The Mappin Building is in an area known as the St George's Complex and houses engineering departments: Mechanical Engineering, Civil and Structural Engineering, Electronic and Electrical Engineering and Interdisciplinary Engineering (Bioengineering, Aerospace Engineering and General Engineering).
The building was closed whilst refurbishments were carried out and it re-opened in early 2020 with two of our oldest buildings (Mappin Building and 1885 Central Wing) being fully refurbished whilst retaining their historical significance.
---
The Heartspace
The Engineering Heartspace, which is housed under a new, impressive curved glass roof, links together the Grade II listed Sir Frederick Mappin Building and the 1885 Central Wing.
With state-of-the-art laboratories, offices and social spaces, the buildings are open to all staff and students at the University, but is home to its world-renowned Faculty of Engineering.
The new facilities include a dedicated employability hub, designed to help businesses from the Sheffield City Region, across the UK and around the world to meet face-to-face with engineering students to aid collaborations. The facilities will also make industrial placements, internships, skills sessions and graduate opportunities more accessible than ever for students.
Professor Mike Hounslow, Vice-President and Head of the University's Faculty of Engineering, said: "We are absolutely delighted to have started moving into the Engineering Heartspace and look forward to welcoming staff, students and partners from industry into our new facilities. Collaboration is a vital part of engineering and we hope that the new facilities which we have invested in will provide another platform for our academics, students and industrial partners to work together to generate real world impact."