Collaborate with the University of Sheffield's Faculty of Engineering.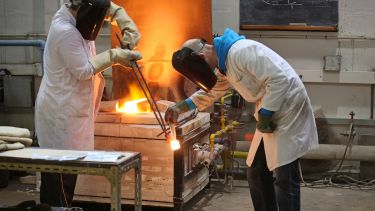 Off
The University of Sheffield has extensive sources of expertise and facilities to help your organisation develop its people, products and services. With a network of focused individuals and a portfolio of collaborative opportunities, working with business and the wider community is at the heart of the University's mission.
For example, five advanced engineering research centres at the University of Sheffield Innovation District, located opposite the Advanced Manufacturing Research Centre's (AMRC) Factory 2050, are working with innovative businesses on projects relating to aerospace, automotives, aviation, construction, water, low- and zero-carbon energy and manufacturing.
For further information visit:
Our track record
We have a long history and a solid track record of service to business and industry. Our expertise across a broad field of subject areas makes us an ideal partner, and over the past few years we have collaborated with over 2,000 organisations keen to harness our expertise, technology, and insight. These have ranged from some of the world's largest corporations to smaller regional companies.
Industrial partnerships
We are developing long term strategic partnerships with organisations where we can operate as part of their innovation process, creating new knowledge exchange relationships throughout the organisation from recruitment to manufacturing and R&D.
The Translational Energy Research Centre and Sustainable Aviation Fuels Innovation Centre work to bridge the gap between academia and industry by offering facilities to test, demonstrate and validate research and technology at pilot-scale. These centres work with industry partners of all sizes to de-risk investment in low- and zero-carbon technologies and processes from across the energy spectrum, including hydrogen, bioenergy, carbon capture and storage and sustainable aviation fuels.
What we offer
A proven track record of research with a wide range of organisations
World-class research expertise, from blue-sky thinking to applied research
A dedicated team of professionals able to assess your business needs
Excellent graduates
Testing and analysis using state-of-the-art equipment and facilities
An unbiased knowledge-based partner
For any partnership queries please email engineering-engagement@sheffield.ac.uk
A world top-100 university
We're a world top-100 university renowned for the excellence, impact and distinctiveness of our research-led learning and teaching.